Moody's cuts Spain's debt rating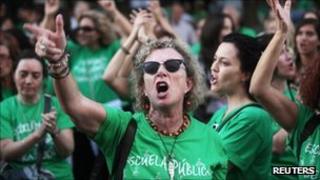 Moody's has downgraded the rating of Spain's government bonds.
The ratings agency cut Spain two notches, two days after Standard & Poor's took the same decision.
Moody's said it had cut the rating because there had been no credible resolution to the eurozone debt crisis.
It also said that the debt crisis and difficulties faced by Spanish banks wanting to borrow money meant it had further scaled back its growth forecast for the country.
"Moody's is maintaining a negative outlook on Spain's rating to reflect the downside risks from a potential further escalation of the euro area crisis," the agency said in a statement.
It added that while it assumed any new government to emerge after elections on 20 November would continue measures to reduce the deficit, it would downgrade Spain further if that turned out not to be the case.
Spain's rating was cut from Aa2 to A1 with a negative outlook.
Earlier in the day, Moody's warned that it was considering changing its outlook on France's AAA rating from stable to negative, which knocked European markets.