Heating oil firms cleared of rip-off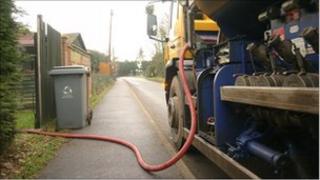 Firms that offer heating oil and liquid petroleum gas (LPG) to four million homes not on the gas network have been cleared of profiteering by the Office of Fair Trading.
The OFT started an investigation in January after prices shot up last winter.
But the regulator said this "price spike" lasted only a short time.
It said it was due to a sudden 40% increase in demand and supply problems, caused by the severe cold weather.
The OFT said that in fact, 90% of the change in the price of customers' heating oil was due to changes in the price of crude oil.
"On the whole, competition works well, with consumers offered a good choice of suppliers, and the off-grid sector does not need price regulation," the OFT said.
"However, the OFT does have concerns that some heating oil and possibly some other off-grid fuel suppliers may not be treating their customers fairly and is currently examining practices further."
No profiteering
Of the off-grid homes, 2.3 million are heated by electricity only, 1.1 million by heating oil, 310,000 by solid fuel and 170,000 by LPG.
Despite last year's price "spike" for heating oil, the OFT found that 97% of off-grid customers lived in areas where they had a choice of at least four suppliers.
It concluded that there was real competition among the sellers, which had restrained prices and prevented profiteering.
However, during its inquiry, the OFT did find some evidence of dodgy practices by some firms.
As a result, it is still looking into claims that some suppliers charged more at the point of delivery than they had quoted to the customer when taking the order.
It is examining whether or not some LPG contracts were too expensive when an introductory offer had expired.
And it is also looking into claims that some firms are mis-selling solar panels.
Audrey Gallacher of Consumer Focus said: "It is welcome that the OFT has taken action on comparison sites and is looking further into issues on dodgy pricing practices and contract lock-ins.
"But as many customers will be worried about prices this winter, they need to see action taken quickly and strong protections in place."
During its inquiry, the OFT took action against several websites run by suppliers that masqueraded as genuine price comparison sites.