Goldman Sachs reports $393m loss on eurozone impact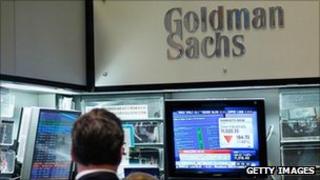 Goldman Sachs has reported a quarterly loss, after its trading was "significantly impacted" by the debt crisis in the eurozone and the wider global economic uncertainty.
The US bank made a net loss of $393m (£250m) for the third quarter of 2011. A year earlier, it made $1.9bn profits.
Goldman's group-wide revenues fell 60% to $3.6bn, revenues at its investment banking arm declined 33%.
Its quarterly loss was only its second since the bank's flotation in 1999.
Goldman's results come after Bank of America reported a profit for the same period.
European impact
Goldman's chief executive and chairman Lloyd Blankfein said: "Chief executive and investor confidence, as well as asset prices across markets, were lower in the third quarter given the uncertain macroeconomic and market conditions."
Analyst Todd Schoenberger, managing director at Landcolt Trading, said the Goldman loss was not a big surprise.
He added: "The underlying cancer on all these reports is Europe, all these banks have risk from Europe and that region will continue to have a negative impact."
Goldman's results were worse than market expectations.
Mr Blankfein added that the bank remained strong for the future.
"We believe the strength of both our client franchise and our balance sheet positions us well for when economies and markets improve," he said.
Sell-off
Bank of America made a net income of $6.2bn (£3.9bn) for the three months to 30 September, helped by asset sales and accounting gains.
Its profit is a big turnaround from a year ago, when the bank reported a net loss of $7.3bn after it was hit by a one-off accounting charge of $10bn.
Bank of America said it had made a $3.6bn profit from selling half of its 10% stake in China Construction Bank.
Bank of America is the largest bank in the US by assets.
"Our focus this quarter was on strengthening the balance sheet by selling non-core assets and building capital to position the company for future growth," said Bank of America chief financial officer Bruce Thompson.