Moody's warns on France's credit rating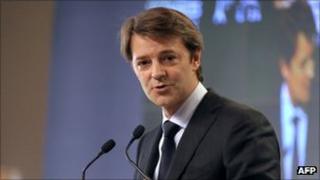 France has been given a warning over its top AAA credit rating by Moody's, one of the main rating agencies.
Moody's warned that it may change its "stable" outlook on the rating to "negative" in the coming months, saying that the government's financial strength "has weakened".
If Moody's does make the change, it stops short of a downgrade.
France's finance minister said the government would do "everything in our power not to be downgraded".
Francois Baroin told the France 2 television station: "We will be there to preserve our triple-A rating."
Italy and Spain have both had their credit ratings downgraded by various agencies in recent weeks.
The credit rating of the US was downgraded by Standard & Poor's in August.
EU meeting
Moody's said the global financial and economic crisis had led to a "deterioration" in French government debt, which was now "among the weakest" of countries with the top AAA rating.
It added that the French government "now has less room for manoeuvre", but needed to show its "continued commitment to implementing the necessary economic and fiscal reform measures".
Moody's also warned that France's budget may be stretched if the costs for helping to bail out indebted fellow eurozone nations and banks exposed to the debt crisis proved too much.
Crisis jargon buster
Use the dropdown for easy-to-understand explanations of key financial terms:
AAA-rating
The best credit rating that can be given to a borrower's debts, indicating that the risk of borrowing defaulting is minuscule.
A country's credit rating is vital as it determines how cheaply or otherwise a government can raise funds.
Moody's warning comes before European Union (EU) leaders meet in Brussels on 23 October to try to find a solution to the continuing debt crisis in the eurozone.
The concerns centre on Greece and the fear that it will ultimately have to default on its debts, and the potential financial chaos this could cause across Europe.
The knock-on fears are that the credit problems of countries such as Italy and Spain may worsen, and the effect this will have on European banks with high rates of exposure to eurozone government debt.
Proposals set to be discussed by EU leaders are increasing the strength of the European Financial Stability Facility - the fund set up to help bailout indebted eurozone countries - and ways to protect exposed commercial banks.