IBM shares fall on disappointing third-quarter profits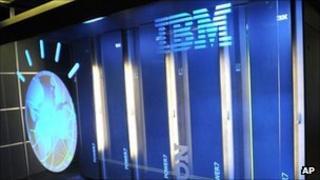 IBM shares fell more than 3% in after-hours trading in New York on disappointing third-quarter profits.
Quarterly net income was $3.8bn (£2.4bn) up 7% from the same period in 2010, but the rise barely met Wall Street forecasts.
This underlined investors' worries about slower technology spending, as firms cancel or delay IT projects, which led to a share sell-off.
IBM shares closed down 3.7% in after-hours trading in New York.
IBM's total revenues for the third quarter were up 8% at $26.2bn on the same period a year ago, slightly less than analysts' average forecast of $26.3bn.
'Good job'
The company raised its full-year earnings forecast to at least $13.35 a share, but this was only slightly higher than analysts had been expecting.
IBM chairman, Samuel Palmisano said: "In the third quarter, we drove revenue growth, margin expansion and increased earnings as a result of our innovation-based strategy and continued investment in growth initiatives."
Global Equities research analyst Trip Chowdry said: "Whatever IBM could control, they did a good job. But they are not immune to macro conditions."
With worries about slowing growth in major economies, even IBM, which operates in markets across the globe, is not seen as invulnerable by investors.