Mobile phone makers wage war to protect their patents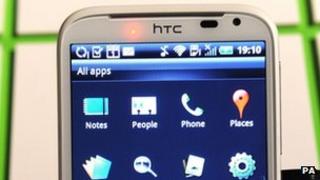 The patent system was created to spur on innovation. But over recent years it has sparked an arms war between some of the world's leading mobile phone companies.
The likes of Apple and Microsoft do not only sue their rivals to protect their own inventions, but go on to buy third party patents to build up their weapon stockpile.
What is more, they appear increasingly willing to litigate.
The number of handset patent infringement filings to the US courts grew from 24 cases in 2006, to 84 cases in 2010, according to Lex Machina, an intellectual property litigation data provider.
It expects that number to grow to 97 cases this year, reflecting more than a four-fold rise in the space of half a decade.
"Filings in this litigation space appeared to have hit a plateau this summer, but are now strongly back on the rise," says Lex Machina's chief executive, Josh Becker.
Accelerated innovation
Part of the problem is the speed at which the industry is evolving.
The US patent system offers inventors a limited monopoly on new ideas lasting twenty years from when they are filed. However, mobile phone users expect giant leaps in progress over a much shorter time span.
As the devices transform into music players, cameras, internet browsers and beyond, they involve an increasing amount of intellectual property.
There are now potentially more than 250,000 active patents relevant to a single smartphone, according to RPX, a San Francisco based patent aggregator and licensor.
"The devices we used 10 years ago to make voice calls have become hand-held computers incorporating a vast array of software and hardware, which increases the breadth of patent exposure," said RPX's chief executive, John Amster.
"And this problem increases with the capabilities of these devices to do new things.
The lawyers become involved when a company either doesn't want to share its advances, or wants to be paid a fee for their use. Some experts believe this is now becoming a default tactic.
Patent wars
Lawsuits between major mobile handset makers. Click on the names to see who is suing whom
"For some time, the threat of mutually assured destruction among the major technology players such as IBM and Microsoft limited the outbreak of patent warfare," says Kevin Werbach, associate professor of legal studies and business ethics at the University of Pennsylvania's Wharton School.
"Today however, especially in the mobile market, asymmetric threats are widespread. There may be a few local winners in the mobile patent wars, but we all lose when the central competitive arena switches from serving customers to winning at high-stakes litigation."
Keeping track of the tangled web of claims and counter claims is becoming a complex task in itself.
Microsoft is suing handset maker Motorola Mobility over its use of video coding and other patents, but Motorola is counter suing over Microsoft's implementation of email, instant messaging and Wi-fi.
Motorola is being taken over by Google, which is being sued by Oracle over its use of the Java programming language in its Android operating system.
Google also intervened in HTC's legal fights against Apple, selling some of its patents to the Taiwanese handset maker. HTC claims Apple violates its power management technology and other innovations, while Apple challenges the way HTC uses touch screens and gesture recognition.
Meanwhile, Apple has used patent and design-related rights lawsuits to prevent Samsung Electronics from selling its Galaxy Tab 10.1 tablet computer in Australia and Germany. The South Korean firm has retaliated trying to ban iPhone sales in Japan and Australia.
LG, Sony, Ericsson, Kodak and Nokia have also been active in the courts.
Litigation contagion
Florian Mueller keeps track of developments at his blog, Foss Patents, and was recently commissioned by Microsoft to study certain types of patent litigation.
"When you get two technology giants battling each other, they will always ensure there is no sign of weakness," he says.
"So you will see one firm counter-suing against the other, even if their claim is of dubious merit, to make sure they don't go down without a fight."
"Litigants look for jurisdictions that they believe are favourable to their interests, which can give them a quick win... as a result the disputes spread geographically."
However, Nokia stresses decisions to take legal action are not taken lightly.
The Finnish phone maker recently settled a patent lawsuit with Apple after the US firm agreed to pay a one-off charge and ongoing royalties.
"Our industry requires significant R&D. Nokia alone has invested around 45bn euros ($61.8bn, £39.4bn) in the past two decades," the firm's chief legal officer, Louise Pentland, told the BBC.
"Companies which use the resulting inventions must have permission and compensate those who took the risks and invested to create them."
"So, though litigation is not Nokia's preferred option, we don't allow others to use our intellectual property without authorisation or get a free ride on the back of our innovation," says Ms Pentland.
Legal logic
While Nokia tackled Apple head-on, the iPhone maker and Microsoft are litigating against handset makers using Google's Android system, rather than the search giant itself.
Google does not charge for the software, but instead relies on its partners' devices driving users to its various search services. The firm's latest results show its mobile advertising business is generating revenue at rate of $2.5bn a year, so giving away Android for "free" makes financial sense.
However that creates a major problem for its rivals.
Microsoft's business model relies on handset makers paying for the right to use its Windows Phone 7 system. Apple has to price in the development costs of its iOS system when selling its iPhones.
Microsoft's solution seems to be to force Android manufacturers to pay it a royalty if they use Google's software. At least that was the outcome of patent talks with HTC in 2010 and Samsung last month.
The terms have never been disclosed, but Citigroup analyst, Walter Pritchard, believes HTC and Samsung pay Microsoft between $1-5 for each Android handset sold.
"I think with approximately 50% of Android handsets covered by royalty arrangements, they will continue to pursue the same course of legal action... for the remaining smaller Android players," Mr Pritchard says.
By contrast, Apple seems more intent on keeping its innovations proprietary.
"We spend a lot of time and money and resource on coming up with incredible innovation and we don't like it when someone else takes those," said Apple's chief executive, Tim Cook, after the firm released its most recent results.
He declined to elaborate further.
However, a recent court filing by one of Apple's lawyers revealed it could be willing to license Samsung some of its "lower-level patents", but in return Samsung would need to agree to "cease copying the features and functionality" of Apple's products.
Patent price inflation
As patent attacks become more common place, companies are stocking up on ammunition.
In December 2010, Microsoft, Oracle, Apple and the data specialist EMC spent $450m on 882 patents, and patent applications, belonging to Novell, an ailing infrastructure software provider.
That sum was then dwarfed by the $4.5bn paid in July for a 6,000 strong patent portfolio belonging to bankrupt telecoms manufacturer, Nortel. Microsoft and Apple shared the library with Blackberry maker, Research in Motion, and three others.
Then, in September, Google revealed plans to buy Motorola Mobility, and its 24,500 patent library, for $12.5bn.
Notably, the deal was secured one month after Google's Chief Legal Officer, David Drummond, wrote a blog titled "When patents attack".
"Our competitors are waging a patent war on Android," he said.
"Unless we act, consumers could face rising costs for Android devices - and fewer choices for their next phone."
Although vast sums are involved, experts say it could prove cost-effective if the acquisitions encourage cross-licensing deals under which firms swap permission to use each others' inventions.
"We're in a situation now of patent poker where the deck has been redealt and everyone has a new hand, and all the patent lawyers are saying we need to review our positions," says Ben Wood, chief of research at mobile analysts CCS Insight.
"I would like to think this might result in renewed sanity and a realisation that trying to kill each other in court isn't to the greater good of the industry."
However others are less optimistic.
"As long as major companies feel they need to shore up their patent portfolios, we'll continue to see patents valued as defensive assets in a total war, rather than based on their potential for value creation," says Professor Werbach.
"While in the short run Nortel's creditors and Motorola's shareholders may have benefitted from patent price inflation, the overall impact will be significant market distortion."
On Tuesday, we will look at the role of so-called patent trolls in the mobile patent wars, and whether fair licensing rules can boost the industry.