PPI complaints to Ombudsman see sharp fall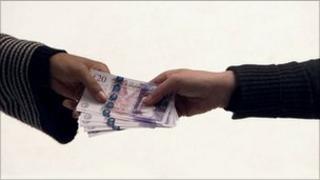 The number of complaints about payment protection insurance (PPI) being taken to the Financial Ombudsman Service (FOS) has dropped sharply.
The FOS received just 19,259 new PPI cases in the third quarter of this year, down 66% from the second quarter.
As a result, the total number of complaints made to the FOS in the quarter fell 38% to just over 50,000.
The FOS said the drop in PPI cases had been expected as a backlog was cleared. Other types of complaint were up 24%.
Despite the number of new PPI complaints seemingly passing its peak, the FOS said it was upholding an even greater proportion of them than before - all cases that had originally been turned down by banks and other PPI sellers.
"The percentage of PPI complaints we upheld in favour of the consumer increased to 92%," an FOS spokesman said.
Mis-selling
The number of PPI complaints taken to the FOS more than doubled in the financial year 2010-11 to nearly 105,000 as publicity about the widespread mis-selling of the insurance alerted many customers to the possibility of gaining compensation.
In the meantime, the banks fought a High Court case to challenge the authority of the Financial Services Authority (FSA) and the FOS, who had laid down new rules about how PPI should be sold and how past cases of mis-selling should be dealt with.
While this was going on, most banks put their new complaints on hold and a huge backlog built up.
But the dam broke when the banks suffered a decisive legal defeat in April and, as a result, were obliged to start processing the backlog that amounted to more than 200,000 cases.
The number of people that then went to the Ombudsman rocketed too - to just over 56,000 in April, May and June.
That surge now appears to be past its peak, though new PPI cases still make up 38% of the current FOS workload.
Meanwhile other types of unresolved complaints being taken to the Ombudsman have increased between the second quarter of the year and the third.
Among them were those about deposits and savings (up 40%), mortgages (up 37%), overdrafts and loans (up 23%), and motor insurance (up 22%).
"Complaints about current accounts and credit cards also remain high," the FOS said.
These accounted for 9% and 12% respectively of all new complaints in the three months to the end of September.