State pension age: what the latest changes mean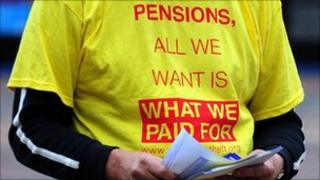 The coalition government has back-tracked on its proposal to speed up the raising of the state pension age (SPA) for both men and women to 66 by April 2020.
The decision was not entirely unexpected.
The proposal had brought a furious reaction from many quarters, but mainly from and on behalf of women, who would have been the biggest losers.
An estimated 2.6 million would have had to wait longer than they were expecting, at relatively short notice, for their state pension.
Of these, about half a million would have had to wait more than a year and some 33,000 currently aged 57 would have had to wait two years.
Welcome delay
The government has listened to the concerns expressed.
Mindful perhaps of losing support for the whole of its new Pensions Bill, it is putting forward an amendment raising the SPA to 66 by October 2020, instead of April 2020.
That is six months later than it had formerly proposed.
This will still leave in place an earlier date of November 2018 for the bringing together of women's SPA with men's at age 65.
But it will effectively cut the maximum amount of additional time anyone then has to wait for their pension, from two years to eighteen months.
The delay will apply to some quarter of a million men as well as women and will probably cost over a billion pounds.
Or put another way, there will be a billion pounds less of a saving than the government was hoping to achieve from the accelerated programme.
Comfortable retirement?
Not everyone is happy with the extent of the climbdown.
However, it will probably be enough to guarantee sufficient support for the Bill as it approaches its final stages in the parliamentary process and will find its way into law in due course.
So, where does this leave us now? What are the prospects for further rises in the SPA and will this change how we plan for our retirements in the future?
For most people, the state pension will continue to be an important component in their retirement planning considerations.
It will remain the bedrock on which future retirement income will be based.
However, notwithstanding the government's plans to produce a bigger unified pension from 2015 or 2016, it is unlikely on its own ever to provide other than a basic standard of living.
The state pension will certainly be less than many might aspire to have in order to live comfortably in retirement.
And it will need to be supplemented where possible by a private pension or some other savings provision.
Wait even longer
Although we can probably feel confident that there will always be some form of state pension, it seems inevitable that we will now have to wait much longer to receive it.
What some have seen as the government's unseemly haste to delay receipt of the state pension until age 66 is almost certainly the beginning of a process which will gain extra momentum before too long.
The previous government had already legislated to increase the SPA to 68 by 2046.
In the face of seemingly ever-increasing longevity, and the consequential heavy cost involved, I suspect this will inevitably be brought forward.
It would not be surprising to see SPA reaching 70 or even beyond within the next 20 years or so, with the young of today having to contemplate much longer working lives than their parents and grandparents before them.
Plan ahead
This would not necessarily be bad news for everybody.
For those willing and able to continue working through to these higher ages, a longer working life could allow them the opportunity to make greater savings into a pension plan than might otherwise be the case.
For manual workers and others with physically or mentally demanding jobs, however, it may be necessary to look for a career change at an earlier age.
In any situation, however, as always, the key to successful financial planning is to start early and set aside as much money as you can in your working years in preparation for your eventual retirement.
And fix on a date when ideally you would like to retire from work and work up a plan designed to deliver a pension at a point which will enable you to do so.
For those who have the opportunity and can afford it, it might still be possible to contemplate retiring from work in advance of the SPA, whenever that may be, taking some or all of any accrued private pension entitlement available and leaving the state pension to kick in later on.
If an individual has access to a workplace pension scheme - which most workers will have in the next few years, when the new auto-enrolment arrangements become law - they should seriously consider taking advantage of it.
As an employee, they will have the benefit of an employer's contribution and government tax relief on their contributions, both of which ought to be a definite plus in their favour.
The opinions expressed are those of the author and are not held by the BBC unless specifically stated. The material is for general information only and does not constitute investment, tax, legal or other form of advice. You should not rely on this information to make (or refrain from making) any decisions. Links to external sites are for information only and do not constitute endorsement. Always obtain independent, professional advice for your own particular situation.