Philips cutting 4,500 jobs as profits fall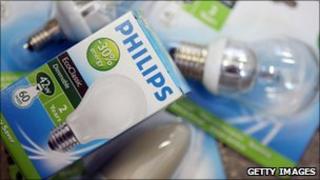 Struggling Dutch lighting and consumer electronics group Philips is to cut 4,500 jobs.
It made the announcement as it reported a sharp fall in third-quarter profits as a result of lower margins, falling sales and a loss at its TV division.
Its group-wide net profit for the three months to 30 September was 74m euros ($103m; £65m), compared with 524m euros a year earlier.
Philips has issued two profit warnings in the past seven months.
Meanwhile, its share price has fallen 40% over the past year, as the company struggles to compete with lower-cost Asian rivals.
Cuts 'regrettable'
Philips' quarterly revenues declined by 1.3% to 5.4bn euros.
"We do not expect to realise a material performance improvement in the near term," said Philips chief executive Frans van Houten.
Philips employs 116,000 people across the world, including 2,200 in the UK.
The company's UK facilities are located in Guildford, Surrey; Hamilton, South Lanarkshire; and Chichester, West Sussex.
Of the 4,500 job cuts, 1,400 will go in the Netherlands. Where the remaining 3,100 jobs will be lost has yet to be announced.
Mr van Houten said the job cuts were "a regrettable but inevitable step to improve our operating model to become more agile, lean and competitive".
Philips added that talks with Hong Kong-based TPV Technology over the sale of a 70% majority stake in its television business were taking "longer than expected".