Rio Tinto to sell 13 aluminium plants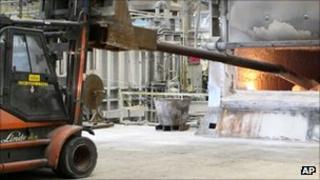 Mining giant Rio Tinto has said it plans to sell 13 aluminium facilities in Australia, Europe and the US, as it looks to trim its Alcan business.
The Anglo-Australian company did not say how much it hopes to raise from the sales. One UK Alcan site is included in the plans, the firm's Lynemouth smelter and power station in Northumberland.
Rio said the 13 businesses were "no longer aligned with our strategy".
It bought Alcan for $38bn (£24bn) in 2007, at the top of the market.
Rio was then forced to sell a number of businesses and cut costs as global stock markets and world commodity prices fell back in the second half of 2008.
Tom Albanese, Rio's chief executive, said: "The assets identified for divestment are sound businesses that are well-managed with productive workforces.
"But they are no longer aligned with our strategy and we believe they have a bright future under new ownership."
He added that Rio was in no rush to complete the sales.
"The strength of our balance sheet means that we can choose the most opportune method and timing to divest these assets, which may not occur until the economic climate improves," said Mr Albanese.
Other Alcan businesses put up for sale by Rio include its Gove bauxite mine and aluminium refinery in Australia, and its Gardanne refinery in France.