Olympus shares plunge after chief executive fired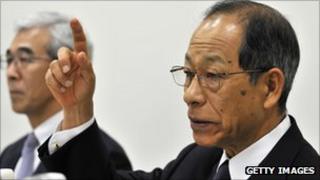 Shares of Olympus Corporation have dropped for a second day after the company fired Michael Woodford, its first non-Japanese chief executive officer (CEO).
The company's shares fell 24% on the Tokyo Stock Exchange on Monday, following an 18% drop on Friday.
Mr Woodford claims he was fired for questioning some accounting practices.
However, Olympus said Mr Woodford's views were no longer in line with other managers.
"Michael Woodford has largely diverted from the rest of the management team in regard to the management direction and method and it is now causing problems for decision-making by the management team," the company said in a statement.
'Big drama'
The firing of the CEO and subsequent claims and counter-claims have raised concerns about the future of the Japanese camera and medical equipment maker.
In an interview given to the Financial Times, Mr Woodford claimed that he may have been fired for raising questions about payments and advisory fees paid for acquisitions made by the company before he took charge.
Mr Woodford said he had also pointed out that the company may need to write down the value of some of the intangible assets it had got as part of its recent acquisitions.
While the management has denied these allegations, the controversy has raised concerns among investors.
"The dismissal has shattered equity market expectations of structural reform at the firm," says analyst Yoshikazu Higurashi.
The developments have led to various investment firms cutting their ratings on Olympus shares.
Analysts said these accusations may only be the start of a long battle between the two parties.
"This is the beginning of a big drama that is going to be captivating Japan and the rest of the world," Kenneth Cukier of The Economist told the BBC's Asia Business Report.
Governance failure?
The decision by Olympus to remove its CEO at a time when he had raised concerns about accounting practices in the company has led to questions about the management policies.
"It is a question of the failure of corporate governance to fully look through an organization," said The Economist's Mr Cukier.
Analysts say such problems have become prominent in Japan and were becoming a big issue.
They cite Fujitsu and Tokyo Electric Power Company (Tepco) and the way in which they mishandled controversies and problems as prime examples of this.
"Corporate governance in Japan is impoverished," said Mr Cukier. "It simply doesn't exist in any meaningful way, instances like this show us that."