News Corp investor to vote against Murdoch re-election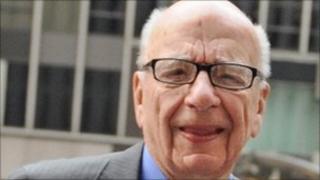 One of the world's biggest investment groups, says it will vote against the re-election of Rupert Murdoch to the board of News Corporation at this week's annual general meeting (AGM).
Calpers is concerned about the power held by Mr Murdoch and other members of his family.
Revelations continue to emerge about a phone hacking scandal in the UK.
The widespread scandal closed the company's best-selling UK newspaper, the News of the World.
In a BBC interview, Anne Simpson, Calpers senior portfolio manager, said that ethics was at the heart of any successful business: "Leadership on that issue is critical, so we look to the board in its next phase to work out how to establish a reputation on leadership for ethics."
Calpers, which is the California Public Employees' Retirement System, is also concerned about standards of corporate governance at News Corporation, with Rupert Murdoch occupying both chairman and chief executive positions.
"We have a problem with Rupert Murdoch combining two jobs," said Ms Simpson.
"Obviously one of the most important jobs of the chairman is to review the chief executive through the board. Now if you're there marking your own report card, marking your own examination paper, you couldn't be objective."
"It's extremely important an independent executive be appointed at News Corp and that would require Rupert Murdoch to step down from both those jobs," she said.
'Skewed'
However the chances of Calpers succeeding in forcing Rupert Murdoch to take the exit door at the AGM on Friday are slim, because the Murdoch family control about 40% of the votes, despite only owning about 12% of News Corp's stock.
"If you have skewed voting rights and you have insiders on the board, in this case family members, you really need to make sure the independent directors are active and objective and really there with a view to protecting minority shareholders," says Ms Simpson.
The senior portfolio manager at Calpers points out their protest vote this week will also seek to prevent other executives being returned to the board.
"We're voting against Rupert Murdoch, his two sons who sit on the board and two of the directors who are non executive, but have been on the board for a very long time," she told me.
As an investor with around seven million shares, Anne Simpson has aired these concerns to Rupert Murdoch which, she says, resulted in "a frank exchange of opinion, a full and frank exchange of opinion, which will continue".
'Methuselah'
Calpers is also unhappy with Rupert Murdoch's age: "Regardless of whether it's Rupert Murdoch or anyone else, we do not have Methuselah running major companies."
"People at the age of 80 to 81 are expected to be stepping aside. This is common sense so a proper succession plan is nothing other than a statement of the obvious."
News Corp has come under closer scrutiny since the UK phone hacking scandal.
Recently another of its newspaper titles, the Wall Street Journal, was alleged to have misled advertisers about its European circulation data, a charge the company described as "inflammatory".
Calpers is not the only shareholder dissenter.
Last week, the corporate governance watchdog, ISS, called for the Murdochs and 10 other directors to step down.
News Corp said it "strongly disagreed" with its analysis.