UK economy at dangerous junction, warns Item Club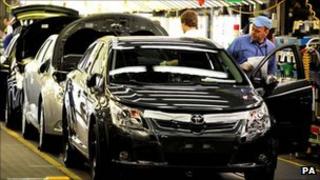 The UK economy has stalled at a dangerous junction, according to independent forecaster Ernst and Young.
The body, whose Item Club uses the same forecasting methods as the government, says the economy needs new growth measures to get back on track.
It says uncertainty across the eurozone and a slowing world economy is undermining business confidence.
Ernst and Young also says the Bank of England's new quantitative easing (QE) bout is unlikely to prompt recovery.
The Item Club has downgraded its forecast for gross domestic product (GDP) to just 0.9% this year, well below the 1.4% it predicted three months ago.
It says growth should pick up to 1.5% in 2012, although that is also well under the 2.2% it previously predicted.
Earlier this month, official figures showed the UK economy grew by 0.1% between April and June, less than the 0.2% estimated previously.
A Treasury spokesman said the government's strategy was the right one: "The government has taken decisive action to reduce the deficit and this fiscal strategy is helping keeping interest rates low for taxpayers, businesses and homeowners and is essential for strong and sustainable growth.
"The latest data confirms the British economy is growing."
The Ernst and Young findings are in line with recent ones from other forecasts and survey evidence and add to the pressure on the Chancellor, George Osborne, to provide an economic boost.
Also on Monday, professional services company Begbies Traynor reported it found an increase of 23% of companies reporting "critical" financial distress in the third quarter of this year compared with 2010.
Companies with "critical" problems are those with county court judgements totalling £5,000 or more, and/or wind-up petition related actions.
'Cut rates'
Ernst and Young says the government should be looking to use targeted monetary and fiscal measures to support growth, as well as the latest injection of £75bn of further quantitative easing (QE).
It thinks further action should include cutting interest rates to 0.25% from their current record low of 0.5%, and a cut in stamp duty for first-time buyers.
It warns that unemployment will rise to 2.7 million from 2.57 million over the next 18 months, and that there should be more support for the labour market.
Peter Spencer, the chief economic adviser to the Ernst & Young Item Club, said: "It's worse than we thought. The bright spots in our forecast three months ago - business investment and exports - have dimmed to a flicker as uncertainty around Greece and the stability of the eurozone increases.
"We think there is scope for targeted tax relief and spending measures to help put us back on track. In the meantime, businesses need to be much more aware of the economic risks and have contingency plans in place given the current volatility."