Sri Lanka tour guide judged world's best by UK magazine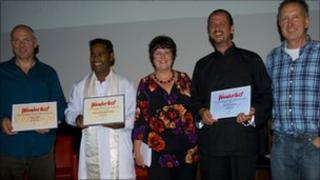 A Sri Lankan tour guide has been selected as the world's best guide by the British travel magazine Wanderlust.
Noel Bruno Dawson says he is delighted and will help disadvantaged people into further education with his bursary.
A Tamil of Indian origin, who comes from a family of impoverished tea pickers in a remote Sri Lankan town, he was hailed by the judges as a "true cultural ambassador."
Italian Gaetano Barone was the runner up and the UK's Kevin Alvin got bronze.
Wanderlust collected feedback from tourists to collect candidates for a shortlist of five. The magazine then sent a judge who masqueraded as a tourist in order to decide who should get the award.
"The difference with Bruno is that instead of just hearing about his country, he made you feel about it," said judge Mark Carwardine, author and wildlife expert.
Mr Dawson says the award is not only a personal achievement, but an honour to Sri Lanka at a time when the country is struggling to improve its international image after decades of brutal civil war.
He is the sixth of seven children and began training in a seminary to become a Catholic priest before he turned to the tourism sector.
"I think the most important thing is commitment," he told the BBC Sinhala service.
"When you are a tour guide you should be ready 24 hours a day. I do not drink alcohol, I don't smoke, I am always prepared to serve my clients."
The young guide says his destiny was transformed after he was made tour leader by the Australian travel company Intrepid Travel, for which he currently works.