Sweet doughnuts conquer the world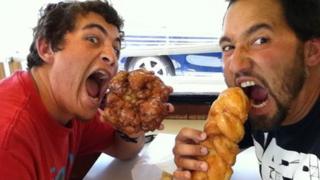 Dave's love of doughnuts means he is different from other people.
"The next step in the evolution," he says, "should be adding jalapenos into the dough of the maple bacon. In theory it would be a waterfall of salty and sweet, with a spicy zing that explodes and lingers."
Dave usually eats two doughnuts per sitting, and about four per week. He finds the "old fashion styles" comforting, though at times he ventures off the map.
"I recently visited a shop in Chico that had some rather unique flavours including a maple bacon doughnut and a chai doughnut," he says.
"I tried them both and was amazingly surprised."
What makes Dave special, however, is not that he frequently consumes doughnuts: a growing number of people do.
What is unusual is that he writes a blog about it - one that is read by more than 35,000 people.
How to spell it
Anthropologist Paul Mullins has taken the subject one step further, by writing an entire book about doughnuts.
In Glazed America: A History of the Doughnut, he illustrates how they were introduced to the US by Dutch immigrants and served to troops in World War I.
As such, the war gave rise to a mass-produced treat that the American people soon renamed "donut".
"Its not really clear how that originated," observes Mr Mullins, "but neon signs in the US embraced donut, likely because fewer letters are easier to display."
Elsewhere in the world, it might be spelt differently, look different, or even eaten differently - yet the American way remains central to the doughnut's universal appeal.
"Doughnuts are very inexpensive, they are easy to make and market, they are exceptionally filling, and they are fabulous commuter foods easily delivered through a drive-through window," says Mr Mullins.
Industrial scale
As the market for doughnuts has grown, so has their variety, which has come a long way since the jam-filled sugar-coated variety was first introduced.
Ever more American supermarkets have their own bakeries, and ever more American people are drawn in by both the smell of freshly-baked doughnuts and the sight of lip-gloss-bright buns that look like fruit but taste like sweets.
In the year to July, these bakeries sold more than $500m (£313m) worth of doughnuts - 6.6% more than the previous year, according to consultants The Perishables Group.
The true figures are probably much greater, as the group does not include in its statistics the big bags of doughnuts that shoppers find in the aisles of supermarkets, it excludes Walmart, club stores, small independent chains and alternative format retailers such as Whole Foods and Trader Joe's.
So there is little wonder that some six decades after it was founded, the doughnut behemoth Dunkin' Donuts sells some 5.3 million doughnuts and doughnut holes a day.
The chain has gone global, with almost 7,000 outlets worldwide - more than half of those outside the US - and its doughnut range has never stopped expanding, so it currently includes more than 70 versions of the sticky, sweet treats.
Comforting breakfast
Dunkin' Donuts has a limited presence in the UK, but Krispy Kreme, which has been around since 1937, has more outlets.
Since its debut in Harrods in 2003, its UK business has migrated to the High Street and to supermarkets, where the franchise has ballooned.
During the past 12 months or so, Krispy Kreme fed some five million customers an average 10 doughnuts each, clocking up sales of more than £33m - a 12.6% rise on the previous year.
The company is planning to more than double the number of UK stores to almost 100 over the next five years.
And with Tesco opening 50 new in-store cabinets last year bringing its total to 300, it seems the growth within supermarkets is even sharper.
"The doughnut industry in the UK is following the US example," says Judith Denby, chief marketing officer for Krispy Kreme UK.
"It is much more of a bed-rock of their society, and doughnuts are very much about breakfast. They are very mainstream and it is slowly filtering to over to here."
Trendy flavours
Doughnuts are popular because they are fresh, and because there is a wide variety of flavours on offer, according to Ms Denby.
But although Krispy Kreme sells 15 different varieties of doughnuts in the UK, its Original Glazed signature doughnut still makes up a quarter of its total sales.
In fact, two-thirds of the range is made up of "old favourites", she explains, while the rest change frequently depending on seasons, geographical locations or even which flavours are trendy.
So last autumn's butterscotch fudge doughnuts were sidelined during spring by a doughnut range the company describes as "bespoke", launched in partnership with the magazine Glamour UK.
And what a hit it was, recalls Lucy Allard, Krispy Kreme's UK product development manager, who saw sales rise 8% on the back of the fashionable bites.
So she is having a second stab at it with a new line-up named Glamour Glaze - you really cannot get much sweeter than that.