Sony Ericsson to go smartphone-only from 2012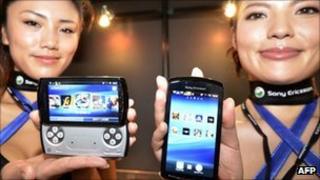 Sony Ericsson broke even in its third quarter and announced it will solely focus on smartphones from next year.
The fact the mobile handset joint venture made no profit was an improvement on the previous quarter's net income loss of 50m euros ($68.8m, £45.7m).
But it was lower than the 49m euro profit in the third quarter last year.
The firm shipped 9.5 million handsets over the most recent period, a 9% fall year-on-year.
Sony Ericsson blamed the drop on lower demand for its less-advanced models.
The company said its Xperia smartphones now account for 80% of its sales. The handsets run Google's Android operating system.
"We will continue to invest in the smartphone market, shifting the entire portfolio to smartphones during 2012," said President and Chief Executive, Bert Nordberg.
Mr Nordberg did not rule out launching models that run Microsoft's Windows Mobile 7 system at some point in the future, but said for now Android was the platform of choice.
Sony Ericsson estimates its share of the Android-based market was 12% of handsets sold over the three months running until the end of September.
Split?
The earnings come a week after the Wall Street Journal reported that Sony may soon buy Ericsson out of the partnership.
The report said the Japanese company wanted to integrate the phone division with its mobile games-machine and tablet computer units.
Sony Ericsson currently operates out of headquarters in Lund, Sweden.
Analysts say Sony has proved resistant to sharing its brands and other assets with the joint venture, explaining why it took until this year for PlayStation games to be offered on one of its handsets.
"Sony has definitely been reluctant to share intellectual property," said Chris Green, an analyst at Davies Murphy Group Europe.
"It learnt from bitter experience that sharing assets with a partnership can mean losing control. It saw that in the case with Philips with its CD and Blu-ray technologies. Bringing Sony Ericsson in-house is the last roll of the dice."