Singapore cuts growth forecast amid global uncertainty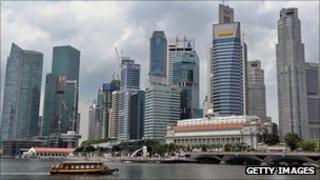 Singapore has cut its growth forecast for 2011 amid concerns that the global economic recovery may be faltering.
The government said it expected the economy to grow by 5% this year, down from an earlier projection of between 5% to 6%.
The cut comes amid fears that a slowdown in the US and Europe's debt crisis may hurt global growth.
The Monetary Authority of Singapore warned growth may slow even further next year.
"With the weak external environment likely to persist, the Singapore economy will expand more slowly in 2012 and growth could be below its potential rate of 3-5%," it said in a statement.
Avoiding recession
Singapore's Ministry of Trade and Industry also released preliminery growth figures for the months of July to September.
According to the latest data, the country's economy grew 1.3% during the period from the previous three months. This was after it had contracted by 6.3% in the previous quarter.
The expansion helped it avoid a technical recession, a term used when the economy contracts for two successive quarters.
Compared to the same period last year, the economy grew by 5.9%.
However, analysts warned that despite the growth, things may get tougher in the coming months.
"Even if the economy managed to avert a recession in the third quarter, the risk of falling into the red in the fourth quarter cannot be ruled out," DBS bank said in a report.