Black days for Blackberry as outage adds to RIM's woes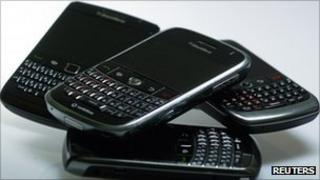 This week's disruption to email and messaging services is just the latest in a long run of setbacks for Research In Motion, the maker of Blackberry.
The company's share price has fallen more than 80% since its high in June 2008.
By comparison, the tech-heavy Nasdaq, on which RIM trades, has risen by around 5%.
Investors' confidence has been shaken by a series of profit warnings and weaker than expected sales.
Wrong numbers
RIM's latest results show it shipped 10.6 million smartphones between June and the end of August. That was far short of the firm's target of up to 12.5 million handsets.
By comparison Samsung shipped 19 million smartphones in its second quarter, and Apple more than 20 million iPhones over a similar period.
To make matters worse, demand for RIM's PlayBook tablet computer also lagged behind the firm's expectations.
As a result it posted a drop in both profit and revenues for the last quarter. This at a time when many of its rivals were surging ahead.
Consumer focus
Part of Blackberry's problem is that its operating software is seen as less user friendly than that of Google's Android or Apple's iOS.
Reviews of the new Blackberry Bold 9900 complain of confusing menu systems and the need to reboot devices after updating applications.
That should change when the company starts selling handsets with a new system, named QNX, some time in 2012.
But experts warn the new software is only part of the solution.
"Consumers and enterprise have moved on from email and messaging and now want richer media experiences, and that still won't be addressed by QNX," says Carolina Milanesi, research vice president at the technology advisors Gartner.
"It won't be the magic cure unless they also improve their applications and user interface."
Complicating matters the current Blackberry OS 7 software is seen as living on borrowed time, and that acts as a disincentive for third-party developers to write applications for Blackberry's current devices.
Two heads worse than one?
Shareholders also question whether RIM's unusual management structure hinders the company.
Co-founders, Mike Lazaridis and Jim Balsillie, share the roles of chief executive and chairman.
Both of the men own more than 5% of the company and talk of having complementary skills.
But there have been constant rumours of discord between the two at the company's headquarters in Waterloo, Canada.
Jaguar Financial is spearheading a group of investors who own 8% of RIM and are pressing for change.
"Basically we believe the dual management team are running RIM as a private company," Jaguar's chief executive, Vick Alboini, tells the BBC.
"There is no board oversight, and a very standoff-ish attitude between board and management that has got to change."
The investor group wants both bosses to be replaced by a new chief executive, who would then explore the sale or break-up of the company.
Jaguar says the firm is struggling to play catch-up with its competition, and should contact Apple, Microsoft and even Facebook to see if they would be interested in taking over the business.
Failing that the group urges RIM to consider selling its patents, noting that Kodak's shares rose after it announced a similar move in July.
The group also highlights Blackberry's declining reserves. At the end of August RIM had $1.4bn (£890m) of cash and other investments on hand, down from $2.9bn three months earlier.
"Its cash resources, compared to its competitors, are paltry," Mr Alboini says.
"There's always the potential to burn through the cash, but it's also about having the money to do mergers and acquisitions, and research and development."
Payouts
That cash reserve may take another hit following this week's service outage.
Spanish operator, Telefonica, said it will compensate its customers, in accordance with Spanish law. Vodafone in the UK said it is considering its options.
If claims mount up the networks may to try to force RIM to cover their bills.
The timing of the disruption could also prove damaging, coming shortly before the much-hyped launches of new flagship handsets from Apple and Samsung.
"We have lost clients," said a salesman in a mobile phone shop in Paris. "Two clients changed their Blackberrys for an iPhone yesterday here in our boutiques."
However, analysts say it is not too late to turn around the company's fortunes.
"The changes next year could reignite interest. They have made acquisitions in TAT, a Swedish interface design company, and NewBay, an Irish firm with expertise in backing up to the cloud," said Marek Pawlowski, editorial director at PMN, a mobile industry research firm.
"Traditionally Blackberry users have been thought of being very loyal to the brand. What we will see after his incident is how hardcore they really are."