Wall Street Journal accused of circulation 'scam'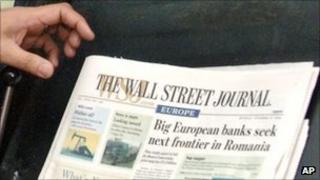 The Wall Street Journal's owner has reacted angrily to allegations that the paper misled advertisers about its European circulation data.
Dow Jones said it was "inflammatory" to suggest that it had been operating what was described as "a circulation scam".
The UK's Audit Bureau of Circulations (ABC), which regulates the statistics, says it may investigate the Guardian's claims.
The newspaper said Dow Jones channelled money to a firm that bought discounted copies of the WSJ's European edition.
In a statement, Dow Jones said the paper's circulation was "fully disclosed and certified".
However, the Guardian says Dow Jones was "effectively buying the papers with the Journal's own cash".
Dow Jones was taken over by Rupert Murdoch's News Corp in December 2007.
Big customer
The accusations relate to a discount scheme dating back to 2008.
European companies were offered copies of WSJ Europe at a fraction of their cover price. The newspapers were then distributed, without charge, to students and others. As part of the scheme, the firms' names were published in a special panel in the paper.
In early 2010, the Guardian says, ELP threatened to pull out. It says that ELP was was responsible for 16% of the Journal's European circulation at the time, buying 12,000 papers a day for as little as one cent a copy.
Dow Jones managed to convince ELP to stay on board. As part of the new arrangement, it was suggested the consultancy would be featured in the WSJ's "Special Reports" section.
The company is named as Executive Learning Partnership (ELP), a Netherlands-based management consultancy.
ELP partner Nick Van Heck says this did not amount to a promise of editorial coverage and that it would be left to the WSJ's staff to decide whether to quote the organisation.
But the WSJ itself later reported that the Dow Jones executive who negotiated the deal pressed for an article featuring ELP to be published. He resigned earlier this week.
Sponsored events
It was also agreed ELP and WSJ would jointly organise seminars and workshops. ELP's website says one of these events was broadcast on two Belgian television stations.
The Guardian says Dow Jones began asking third party companies that owed it money, to pay the cash to ELP.
ELP says it was "surprised by the way WSJE wanted to arrange payments".
A spokesman for Dow Jones told the BBC: "ELP was paid for legitimate services rendered; however, the manner in which they were paid was admittedly complex but nevertheless legitimate."
But he added that Dow Jones was not comfortable with the appearance of the scheme, and managers "no longer have relationships with any of the third parties directly involved in these agreements".
ELP stresses that it, and not Dow Jones, ended the arrangement in April 2011.
ABC's UK chief executive, Jerrry Wright, said: "We have re-examined the scheme based on some new evidence available."
"There now appears to be additional new information which may give grounds for further investigation."
Dow Jones responded: "We have always been transparent with the ABC, and they have certified this program over recent reporting periods. We plan to meet with them soon and review all the details with them again."
A Guardian News & Media spokesperson said: "We stand by our story completely... Dow Jones failed to rebut a single fact."