UK trade deficit cut by higher exports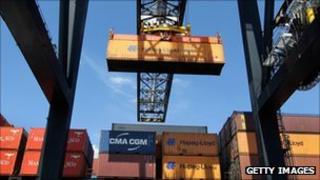 The UK's trade deficit narrowed in August as the export of goods hit a record high, official figures have shown.
The overall deficit for goods and services was £1.9bn in August, compared with £2.3bn in July.
Total exports of goods hit £25.5bn, following a 0.6% rise, while imports of goods declined by 0.7% to £33.3bn.
Analysts said the stronger exports may boost the economic growth figures for the July to September quarter.
The UK's surplus on trade in services remained at £5.9bn, with both exports and imports rising by 0.3%.
The deficit on trade in goods narrowed by £400m to £7.8bn.
'Concerns persist'
Economist Alan Clarke of Scotia Capital said: "At face value it does look like very good news.
"I guess the health warning with this release, along with a lot of the other ones we've been getting, is the revisions to the historical data.
"Even so, it's a decent improvement on the month and may yet help to give us a decent third quarter GDP."
Howard Archer, chief UK economist at IHS Global Insight, said the August figures were "appreciably better than expected".
"However, severe concerns persist about the prospects for exports in the near term, at least given recent weakened global economic activity and the current worrying growth prospects," he added.
The latest trade figures come a week after the Bank of England announced that it would inject a further £75bn of new money into the UK economy through another round of quantitative easing.
Barclays Corporate analyst Kah Chye Tan said the move could help exporters by putting downward pressure on the pound.
However, he added: "While this is good news for UK exporters, importers will be feeling the brunt of an increase in the cost of raw materials and finished goods."