European banks may need to raise 200bn euros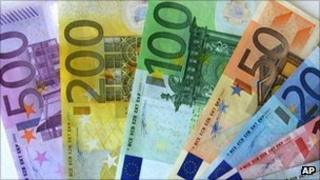 European banks may have to raise a collective 200bn euros ($276bn; £175bn) to boost their capital reserves.
The proposal is being made by the European Banking Authority (EBA), which wants the banks to have more funds in reserve to help protect them from any future shocks in the financial markets.
BBC business editor Robert Peston said banks may struggle to raise the money.
He said that governments were likely to have to provide the funds in many cases.
Our editor said: "It is a good deal of money for those banks to find. And in the case of many of those banks, they will not be able to raise it on markets.
"It would have to come from governments."
The EBA, Europe's banking industry regulator, wants banks to boost their capital reserves to between 9% and 10% of their overall assets, after allowing for reductions in the value of their loans to Greece, the Irish Republic, Portugal, Spain and Italy.
These are five of the most indebted countries in the eurozone, with Greece, the Irish Republic and Portugal continuing to rely on bailout funds from the European Union and International Monetary Fund.