Sahara Group invests $100m in Force India Formula 1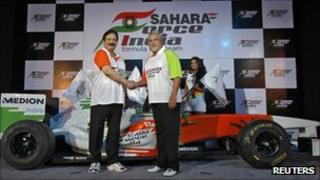 Indian conglomerate Sahara has announced a deal to buy a large stake in the Force India Formula 1 team.
The company will invest $100m (£63m) for a 42.5% stake, making it co-owner with the team's co-founder Vijay Mallya, who will remain team principal.
The money will be used to invest in new technology to improve performance, a company statement said.
Sahara has a number of sporting interests and sponsors the Indian national cricket team.
"Formula 1 car racing has always remained the bastion of the western world," said company chairman Subrata Roy Sahara.
"The advent of India in this exciting sport has remained a matter of pride for all our countrymen. I feel doubly proud that Sahara is the co-owner of India's only Formula 1 team and I am sure that through Sahara Force India, we will together bring pride and laurels to our beloved nation."
Following the deal, the Moll family from the Netherlands, which helped found the team with Mr Mallya, will hold the remaining 15% stake.
Force India currently lies sixth in the Formula 1 constructors' table.