Funding childcare or fixing potholes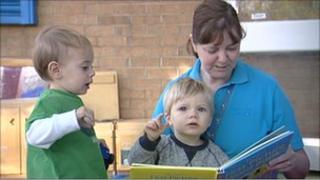 Coventry Council needs to save money, lots of money. Its predicament can be distilled to a very local debate: parents versus potholes.
Should it continue to fund full-time day care at its council-run Sure Start Children's Centres and provide places for kids under two, or should this money be spent elsewhere?
Coventry mum Sam Lyle has no doubt where the council's priorities should be.
"The council is involved in providing a whole series of services, so why shouldn't they have a stake in nurturing and raising its youngest citizens," she told me as she dropped off her 15-month-old son, Charlie.
"It means I'll have to pay an extra £15 a day and I won't be able to increase my hours at work. I wouldn't mind so much if I thought that staff at a private nursery were being paid properly, but they'll be on the minimum wage or just above."
Sam, a postgraduate student, has launched a city-wide campaign to get the council to change its mind.
The proposals could save the City Council £1m.
That would go some way towards resolving the £4.2m overspend in the Children, Learning and Young People Directorate.
It has been caused largely as a result of the council taking on an extra 70 children in full-time residential care. It is a hugely expensive business and there is no quick or easy way to ease these pressures.
The council believes that targeting nursery provision is necessary to protect the city's most vulnerable young people.
But much to the annoyance of Sam Lyle and others, the council has decided to avoid cuts to its highway programme and spend £5m on fixing potholes, pavements and roads.
This decision delighted local driver Hamilton Bland.
"I couldn't be happier that the council is putting the money where they should be, especially from a safety point of view," he said.
The trouble is that everyone has a view about the services that they care about and the council has to decide how to spend a shrinking pot of money.
Parents versus potholes is just one of the many examples of the difficult decisions that are once again having to be made.
Coventry City Council has just been through perhaps its toughest financial year, and is now having to come up with another budget for the next financial year.
So too are other local authorities up and down the country, and for many of them the hardest decisions lie ahead.
Coventry had a gaping hole in its finances this year and had to make £45m of savings, but it was better placed to do so than a lot of other authorities since it had already embarked on a restructuring programme aimed at doing more with less money.
It has 520 fewer posts than a year ago, but that isn't nearly enough and now it faces having to do less with less.
"We can't keep on doing the same," says Martin Reeves, chief executive of Coventry City Council.
"There's no doubt we have to start asking fundamental questions about what we, the local authority, should deliver in terms of services. What does a local authority do for its people? This is the kind of question we've now got to get into," he said.
It's radical stuff. When it comes to local government, the spending squeeze is only just beginning.