Eurozone industrial production sees surprise rise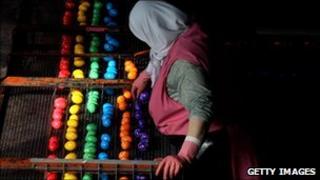 Industrial production in the 17 countries that use the euro rose unexpectedly by 1.2% in August.
The EU's statistics office, Eurostat, said it meant industrial production had risen by 5.3% on an annual basis.
The increase may ease concerns that the eurozone is heading back into recession in the third quarter.
Economists had forecast a rise of 2.2% on an annual basis, and fall of 0.7% on the month. August's increase follows a rise of 1.1% in July.
In Germany, the eurozone's biggest economy, output fell by 1% month-on-month, but was 7.8% higher than 12 months ago.
Meanwhile the Irish Republic, which is implementing an austerity programme, saw its production increase 4.4% in August and jump by 10.1% year-on-year.
'Overly flattering'
"August's rise in eurozone industrial production suggests that, for now at least, the sector is continuing to prop up the wider recovery," said Ben May of Capital Economics.
"But this is unlikely to last. The 1.2% monthly rise in output was much stronger than expected, and was a touch better than July's healthy 1.1% gain."
He added: "Nonetheless, the headline figures paint an overly flattering picture of the state of the sector."
Mr May said there was evidence temporary factors, such as the timing of school holidays, had been an important factor behind the recent rise in output.