Nest is coming: Get ready now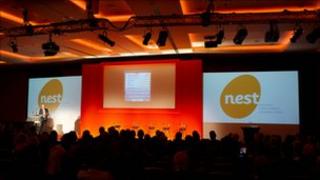 More than 100 employers around the UK have agreed to enrol some of their staff in the new national top-up pension scheme known as Nest - the National Employment Savings Trust.
Employers will not be formally obliged to begin the phased enrolment of their staff in Nest until October 2012.
If they already run a decent pension scheme, then all staff can be automatically enrolled in that instead.
But in a "soft launch" that began in July this year, a variety of small, medium-sized and large employers have volunteered to start the Nest process.
This will gradually ramp up activity, so that the Nest system will be absolutely ready come October next year.
So, how is it going?
"It's going pretty well," said Tim Jones, the chief executive of Nest.
"What is happening here is probably the single biggest implementation of behavioural economics, certainly in the financial sector, that's been done yet."
'Easy to use'
One of the guinea pigs for Nest has been a small speciality chemical manufacturer from Preston, called F2 Chemicals.
Set up in 1992, the firm employs 36 staff and shut its final-salary pension scheme to new joiners two years ago, and had been wondering what to do next for its newer staff.
Bill Denison, the firm's managing director, said the experience of registering with Nest and signing up his first member of staff had been surprisingly good, despite his initial fears.
"Because I had been a director of that [final-salary] scheme I had realised how complicated the pensions industry is, so that gave me the fear of how difficult this might be," he said.
To his pleasant surprise things have turned out differently.
"We were offered support in terms of setting the scheme up, but in reality we haven't needed it," said Bill.
"The online systems have been so easy to use that I would have no problem recommending to any small company that this is very easy to do - anyone with half an hour can sit at their computer and set their company up."
Tweaks
With a variety of firms now using Nest's website in earnest to register themselves, sign up employees and pay the contributions, the Nest team have already had to make some adjustments to their online system.
Among them have been extending the log-out time for users from the previous five minutes.
Also, a much longer field length is now available for customers' names on the online forms.
And employers can now make their contributions every two weeks, not just weekly, monthly or every four weeks.
With just a year to go before auto-enrolment starts, all employers have now got to get a grip on their forthcoming obligations.
At a Nest publicity conference in London on Tuesday, Peter Woods of the big accountancy firm PwC warned: "Many firms, including some large ones, are not as prepared as they should be."
Massive change
At the same event, Pensions Minister Steve Webb confirmed that auto-enrolment would indeed start as planned next October.
He pointed put that it would eventually cover one in four of all adults.
"Nest adds massively to the UK pensions landscape," he said.
What about those employees who exercise their right to opt out?
No-one knows how many that will be.
But if it were too many, it would obviously defeat the object of the exercise, which is to cajole millions of workers in the private sector to start making extra saving for their retirement.
"We will be researching very carefully the people who opt out," Steve Webb said.
'Great product'
The Nest contributions from employers and employees will go into conventional pension investment funds, just as if they were being invested in an employer's defined contribution pension scheme.
Lord Adair, whose Pension Commission first proposed the idea of Nest, pointed to one of the new scheme's great advantages: low charges.
The typical charges levied by the private pension investment industry - for overheads like the cost of pension sales, investment churn and administration - usually amount to 1.5% of funds under management each year.
Lord Adair repeated a point that many pension savers still do not understand: that over a lifetime of saving those charges can cut an individual's pension pot by 30%.
By contrast, Nest will have charges of 0.3% of the accumulated pot each year, plus 1.8% of that year's contributions.
"Nest is a great product that will set international standards," Lord Adair said, and he hailed it as a great step forward to eventually eradicating pensioner poverty.
The basic facts
Automatic enrolment, either into Nest or an existing company scheme, begins in October 2012 and will apply to workers who:
are at least 22 years old but below their state pension age
earn more than £7,475 a year
Minimum contributions will be paid on their earnings between £5,035 and £33,540.
Employers will start paying a minimum of 1% of qualifying earnings, rising to a minimum of 3% by 2017.
Employees will start paying a minimum of 1% of their qualifying earnings, rising to a minimum of 5% by 2017.
The process of employers joining Nest and automatically enrolling their staff to it - or to their own pension scheme - will start with big and medium-sized employers between 1 October 2012 and July 2014.
Small and micro employers will have to join in the process between August 2014 and February 2016.