Japan's core machinery orders jump 11% in August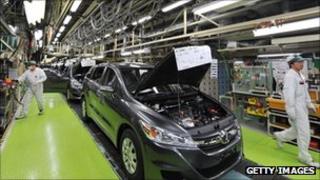 Japan's core machinery orders jumped in August as Japanese manufacturers continue to recover from the earthquake and tsunami.
Core machinery orders rose 11% in August, their biggest gain in a year, latest government data showed.
The rise in orders comes despite concerns that a global economic slowdown coupled with a strong yen may hurt Japanese manufacturers.
The data is a key indicator of capital expenditure trends in Japan.
"The data confirms corporate capital spending remains firm and there is little worry about a near-term downturn, since industries such as auto making have steadily increased spending," said Junko Nishioka of RBS Securities in Tokyo.
External risk
While the reconstruction and rebuilding efforts after the twin natural disasters is expected to provide a much-needed boost to the Japanese economy, analysts warned that external factors continue to remain a big threat.
Japan's manufacturing sector is heavily dependent on exports to sustain its growth.
The US and Europe are key markets for many of Japan's biggest companies. However, both these economic regions have been battling issues of their own.
A high rate of unemployment and slowing growth has dented consumer demand in the US, while the ongoing debt crisis in Europe has become a threat to the region's economic growth.
"The greatest risk for the Japanese economy is whether the global economy actually falls into a recession," said Takeshi Minami of Norinchukin Research Institute.
There are fears that a global recession may hurt demand for Japanese goods and impact growth in the world's third-largest economy.
"If exports drop, then it would be difficult to support the economy merely with reconstruction demand." Mr Minami added.