Hong Kong to subsidise housing after public anger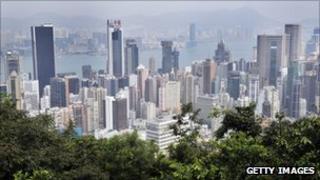 Hong Kong will resume a programme to subsidise home purchases to address public frustration over sky-high property prices.
The government will make thousands of homes available for lower income families to buy.
The move comes as a boom in the Hong Kong economy has seen property prices reach record levels in recent times.
But the gap between rich and poor has worsened, stoking anger towards the government and property developers.
The scheme was suspended in 2002 during an economic downturn.
Sharing prosperity
However, on Wednesday the city's leader Donald Tsang said in his annual policy address that the government plans to provide more than 17,000 apartments between 2016 and 2020.
On average he said about 5,000 apartments will be available each year. These apartments will be between 400 to 500 square feet in size.
The programme is aimed at families who earn too much to qualify for public rental housing but cannot afford to buy a home of their own.
The flats will cost between 1.5m Hong Kong dollars ($193,000; £124,000) to HK$2m in a bid to make them affordable for households with a monthly income of between HK$20,000 to HK$30,000, he said.
"Economic development is not an end but a means to enable our people to share the fruits of prosperity, improve living conditions and build a stable home," Mr Tsang said.
"People have become frustrated because it's more difficult for them to own a home," he added.
The government has taken some measures to address the wealth gap, such as the introduction of a minimum wage in May and a HK$6,000 cash hand-out for all permanent residents.
Half of Hong Kong's households live in some form of subsidised housing and there are 150,000 families on the waiting list.
The speech was Mr Tsang's last policy address as chief executive before he is replaced next year.