UK unemployment figures paint bleak picture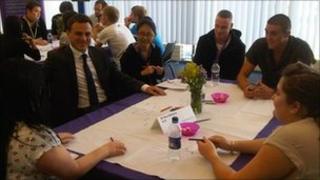 The news from the labour market is bleak. There is little cheer in the latest official figures and they illustrate the human cost of the slowdown in economic growth.
Questions will be asked again about where growth is going to come from and will it be enough to stop the unemployment total rising, never mind send it into reverse.
The most worrying aspect of these figures for the government was the decline in the number of people in work.
Before now, the chancellor has liked to highlight the economy's ability to generate new jobs. But the latest figures reveal that the employment rate fell by 0.3 percentage points to 70.4% of the working population in the three months to August.
There was a drop of 178,000 in the numbers in work, the largest quarterly fall since the summer of 2009.
The total number in employment fell over the year as well, down 47,000. It should be noted that the fall in part-time workers was much larger than the reduction in those with full-time posts.
Youth unemployment remains a major blight on the labour market. The number of 16-24 year olds out of work is now just short of one million (991,000), with an increase over the three months of 74,000. Even after stripping out full-time students looking for work, there was a sharp jump in the number of youngsters looking for work, with a total of 721,000.
Around the UK, there are varying experiences of joblessness. The south-east of England has an unemployment rate of 5.8%. But it is nearly double that in the north-east of England, where 11.3% are out of work. The North East also saw the sharpest increase in unemployment of any UK nation or region over the most recent quarter - 1.5 percentage points.
'Shocking waste'
The North East is a part of the UK where the labour market is seen as especially vulnerable because of the high proportion of the workforce in the public sector. There are fears that reductions in public sector employment will take a heavy toll.
Leadership development group Common Purpose has launched a campaign called Young Million to try to help the swelling army of young people searching for work. The group has been running workshops around the UK, including the North East.
"We think that it's a shocking waste of talent that we're heading for one million young unemployed," says Fiona O'Connor, senior course director for Common Purpose in the North East.
"There are many good schemes to help people get a job - but not many that help them whilst they are unemployed. Young Million is giving them training and development that they've missed out on and which they deserve."
Attending the course at Stockton on Tees this week was Michaela Salvati, who is 22. She graduated in the summer from Edinburgh University.
"I applied for jobs and people haven't been in touch or there have been rejections," she says. "It's disheartening. I am looking for a job in journalism or PR, but have tried office work or retailing and it's tough to find anything. I will try to stay positive - my view is don't give up or you will never reach your dream job."
Lee Williamson, aged 24, comes from Saltburn by the Sea. He has had different jobs since leaving school but in the last 8 months or so has strugged to find anything.
"It's quite tough - there's not a range of jobs out there - most are cleaning or catering which I don't think I am suited to," he says. "I have tried all sorts of labouring jobs and retail but there just isn't anything. The course has helped me focus and given me more direction."
The latest figures underline that unemployment is a national problem, and a regional one too. The jobs market varies widely and there is a growing sense of a North-South divide.