Ben & Jerry's declares a taste for Wall Street protest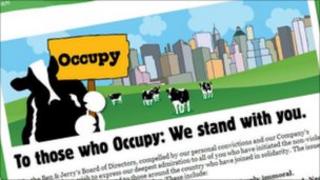 Ice cream maker Ben & Jerry's has come out in support of the "Occupy Wall Street" campaign.
The company's blog says its board of directors has the "deepest admiration" for those taking part.
It adds: "We support this call to action and are honoured to join you in this call to take back our nation and democracy."
Demonstrators have camped out in New York's financial district, in lower Manhatten, since 17 September.
The protest is promoted by the Adbusters magazine. The activist publication says the action was inspired by the Egyptian Tahrir Square uprising and the Spanish anti-austerity rallies.
The magazine describes the event as a "people powered movement for democracy".
Many of those taking part have demanded an end to bank bailouts and better government. Solidarity rallies have taken part in other parts of the United States.
However, as a "leaderless" movement, it has not declared a list of specific demands to be carried out before the protests are called off.
That has not stopped others seeking to associate themselves with the event.
The Democratic Congressional Campaign Committee announced its support for the movement via email. The musician Kanye West and the actor Tim Robbins are also among several celebrities to attend the New York rally.
But Ben & Jerry's may be the first big company to throw its weight behind the campaign.
Split support
The ice-cream maker says the movement promotes many of the same issues that the firm has been involved with for years, adding that the protest has "put them out front in a way we have not been able to do".
It says it supports the call "for systemic change".
However, Ben and Jerry's parent company, Unilever, is taking a less radical stance.
A spokesman from the British-Dutch conglomerate told the BBC: "We maintain a neutral position with regard to social movements and will make no public statements about this particular campaign".
Simon Myers, from the branding consultancy Figtree network, says Unilever's position is not a surprise.
"What is interesting is whether people will make a connection between Unilever and Ben and Jerry's and demand that they get off the fence," he said.
"This would be very uncomfortable for them. While they may want to be on the side of caring capitalism (the message from the top), this is different from supporting a movement that wants a radical break with the current consumption-led, low-tax agenda."