UK manufacturing output down 0.3% in August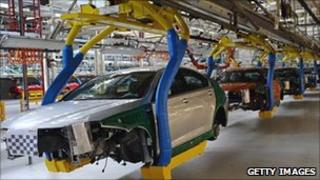 The UK's manufacturing output was 0.3% lower August than in July, according to official government figures.
Compared with a year ago, it was 1.5% higher, said the Office for National Statistics (ONS). That was the weakest annual growth since February 2010.
Comparing the three months to the end of August with the same period in 2010, growth slowed from 3.3% to 2.5%.
The wider measure of industrial production showed August's output was 0.2% higher than in July.
But the ONS warned that as part of a major reclassification of the data, it had introduced the new category of "water supply, sewerage and waste management" to the industrial production data, and regrouped activities in other categories, meaning previous data is not directly comparable.
Industrial production figures also include data for oil and gas production.
The ONS said the fall in manufacturing was driven by the wood and paper products and metal products industries.
The chief economist at the British Chambers of Commerce, David Kern, said: "In view of the worsening global economic background, the manufacturing output figures, while disappointing and weaker than expected, are not surprising.
He added that there was no need for "undue pessimism" about the health of the manufacturing sector, but there were challenges ahead, particularly for those firms exporting to the eurozone.
"The government for its part must be more proactive in pursuing growth-enhancing policies, and look to reallocate priorities within the overall spending envelope," Mr Kern said.