Chinese bank shares rise after Beijing ups stake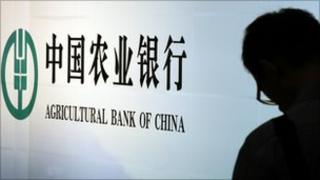 Shares in China's big banks have moved higher, after the country's sovereign wealth fund announced it was increasing its stake in them.
Central Huijin, the domestic arm of China Investment Corporation, bought shares in four major banks on Monday, said the official Xinhua news agency.
The share purchase is the first since the global financial crisis in 2008.
Analysts said the move was aimed at boosting investor confidence shaken by foreign markets and domestic policy.
Shares in Agricultural Bank of China surged more than 12% on Hong Kong's main index, while Industrial and Commercial Bank of China rose 7% in early trade.
Growth concerns
"They're showing confidence in the banks, and support from the central government," said Victor Wang from Macquarie Securities.
Chinese banks shares have fallen 30% in recent months, according to the Financial Times.
Although Chinese growth continues to show strength, analysts say investors are concerned about the eurozone debt crisis and a slowdown in the US economy.
Inflation is also a concern, currently near its highest level in three years.
Continuing support
The four Chinese lenders later gave details of the move by Central Huijin.
Agricultural Bank of China, Industrial and Commercial Bank of China, China Construction Bank Corporation and Bank of China said 39.1 million, 14.6 million, 7.4 million and 3.5 million of their Shanghai-listed shares were bought on Monday
That only amounts to a small increase in the stake held by Central Huijin in the banks, which is already the largest shareholder in the country's big lenders.
It also said in a statement to the Hong Kong Stock Exchange that it would continue to increase its holdings in the four banks over the next year.