Sri Lanka visas: Tourist industry concerned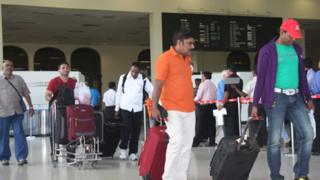 It's early afternoon at the Bandaranaike International Airport outside Colombo.
A stream of visitors arrives from London or Dubai, Frankfurt or Hong Kong. They meet their tour guides or drivers and are whisked out in air-conditioned vehicles into the tropical greenery.
Visitor numbers to the island have risen, and most of these new arrivals from overseas will have just been given visas-on-arrival, free of charge, which are available for 84 countries.
But that will soon change.
Ambassadors and other VIPs were recently invited to an opulent ceremony in Colombo at which it was confirmed that the system would be altered.
To the accompaniment of folk-dancing and drumming, a new system was unveiled. From 1 January, tourists or business travellers will need to apply in advance, usually online via new site, www.eta.gov.lk and pay a processing fee of $50 (£32) for tourists, $60 for business travellers or $25 for transit passengers. Only those from Singapore or The Maldives will be exempt.
This will secure them what is called an ETA (Electronic Travel Authorisation), which will give tourists a double-entry month-long permit, business people multiple-entry, and transit passengers seven days. Most will get it but those who are turned down will not be reimbursed. The process will take a few days.
Third parties or registered agents can also apply.
For visits longer than a month, additional visa fees are payable, varying from country to country.
The government says it will be a simple and quick system.
"A processing fee to get a visa is already in operation in many other countries including Europe and the American continent," Rumy Jauffer, the managing director of the Sri Lanka Tourism Promotion Bureau, told the BBC.
"So that's not going to be a major problem at all. Welcome to Sri Lanka."
Asked whether he thought Sri Lanka might lose out to destinations such as Malaysia and Thailand, which levy no visa fee, he pointed out that India had strict visa regulations.
He also denied that security was a motivating factor in introducing prior approval of visitors. At the launch, however, a senior immigration official said that the system arose from the need to balance "facilitation and regulation", as advised by Sri Lanka's defence secretary, and many believe security is an issue.
'Anxious'
Not all tourism entrepreneurs are happy with the change.
Hiran Cooray, chairman of a highly successful Sri Lankan luxury chain, Jetwing Hotels, worries that the timing is not right.
"We have been a country where people just came in and went out," he said.
"And that was a very, very healthy way of running our tourism. So this is new to Sri Lanka. So we are anxious to see how it works."
He does not expect a massive fall in arrivals but says the numbers of last-minute visitors from India will definitely drop.
In early 2011 some tour operators said they feared a drop of as much as 30% to 40% in visitor numbers if free visas were scrapped. Those concerns prompted a delay to the new system but it is now going ahead.
At the coastal resort town of Negombo, tourists dip a toe in the Indian Ocean, bask in the sun by hotel pools and admire the traditional fishing catamarans on the golden beach.
Would the advance permit system put them off revisiting? All say no, though some have reservations.
Francesca Anthony, from Wales, honeymooning with husband Simon, said it would be "one more thing to think about.
"It wouldn't put us off completely because obviously if you want to go to a destination that's where you're going to go. But you might think twice, especially if travelling between different countries or destinations in one trip."
Gaetano Guzzardella, from Bologna in Italy, says he is enjoying Sri Lanka's nature, people and cuisine, and that if the cost of a visa was low he would still return, although he thought it an unnecessary bureaucratic measure.
But Ashok Talwar, visiting from Mumbai in India with his wife, Indu, sees no problem.
"Fifty dollars, if you look at other [places], it's not that much money," he said. "People can afford to pay and come to Sri Lanka and enjoy their holidays."
With its war still a fresh memory, the Sri Lankan government wants more control over who enters the island. The new visa system seems to be as much about that as about revenue. The authorities are also mindful of Western nations' strict visa rules.
But the tourism sector hopes its needs will be balanced against those of the security establishment.