UK seeing 'a big rise in poverty'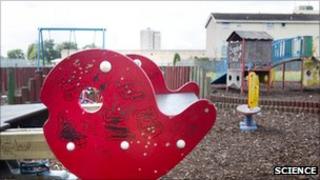 The UK will continue to see a big rise in the number of people living in poverty, a report by the Institute for Fiscal Studies (IFS) has warned.
The study said 2.2 million children and two million working age adults were living in absolute poverty in 2009-10.
It predicts that by 2012-13, this will rise by an extra 600,000 children and 800,000 adults of working age.
The government said its "wide-ranging reforms will have a dynamic impact on some of the poorest families".
In percentage terms, 17% of UK children were living in absolute poverty in 2009-10. By 2012-13, the IFS predicts this will rise to 21.8%.
'Credit boost'
People below the poverty line have a household income at least 60% less than the national average.
The IFS said that in 2009-10 the poverty line was set at a weekly income of £347 after tax and national insurance for a couple with two children, or £165 per week for a single adult without children.
From 2013 the government is introducing a new single monthly benefit payment, called the Universal Credit.
The IFS says the Universal Credit should directly reduce the number of children in poverty by 450,000, and adults in poverty by 600,000, by 2020-21.
However, the IFS adds that the Universal Credit will ultimately fail to prevent poverty increasing, because it will be "more than offset" by other planned reforms, such as changing the measurement of inflation used for means-testing benefits.
As a result, it predicts that absolute child poverty will continue to rise, and by 2020-21 will be at its highest level since 2001-02.
The IFS says the government will therefore miss its targets for reducing child poverty, as set down in the Child Poverty Act of 2010.
A government spokesperson said: "The IFS acknowledge that Universal Credit will substantially reduce child poverty.
"It will make work pay for the first time, tackling in-work poverty and lift over one million people, including 450,000 children, out of poverty."
The IFS report was funded by the Joseph Rowntree Foundation.