Warm weather 'knocks High Street sales'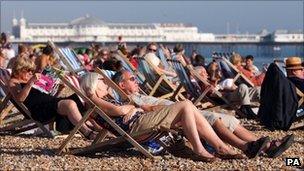 September's unseasonably warm weather was bad news for the UK's retailers, as people were more interested in enjoying the sunshine than going shopping, a report has said.
Like-for-like sales were down 4% last month compared with a year earlier, according to accountancy group BDO.
It said this was the sharpest fall since March 2009.
BDO added that fashion stores were the most affected, as there was little interest in their new winter lines.
"Rather than stock up on cardigans and coats, consumers largely avoided the High Street in favour of a final few days of sun," said BDO.
It added that the combination of the hot weather, a lack of promotional deals, and economic gloom had created something of a "perfect storm" for the High Street, and fashion retailers in particular.
BDO said same-store sales at fashion stores fell 5.1% in September.
Looking forward, BDO's national head of retail and wholesale, Don Williams, said things should now improve towards the festive season.
"While conditions on the High Street are undoubtedly tough, consumer spending is unlikely to collapse completely between now and Christmas," he said.
"We expect an element of bounce back now the temperature has dropped, and the usual seasonal promotions are starting to appear."
A separate report by research group Springboard said retail footfall fell 1.2% in September.
Related Internet Links
The BBC is not responsible for the content of external sites.