Sainsbury's follows rivals in price promotion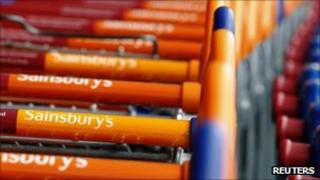 Sainsbury's has announced it will match the prices of certain products at rivals Tesco and Asda, as the UK's leading supermarket chains look for ways to attract new customers.
From this Wednesday, Sainsbury's will issue customers with coupons to the value of the difference between its branded goods and those of its rivals.
The move comes after Tesco launched its own price drop promotion.
Both chains are looking to boost sales in difficult trading conditions.
Last week, Tesco announced a fall in like-for-like sales for the first half of the year. Sainsbury's posted a modest increase.
"With inflation running at 4%-5%, people are trading down and cutting back the most on their food shopping," Rahul Sharma at Neve Capital told the BBC.
"These promotions are all part of supermarkets' efforts to try and keep traffic at their stores while purses are tight."
Price wars
Customers need to spend £20 or more to qualify for Sainsbury's offer, and any coupons issued need to be redeemed within two weeks.
The promotion has been trialled at stores in Northern Ireland.
The move follows Tesco's own promotion, launched two weeks ago, which saw the group cutting prices by £500m.
However, to fund these cuts the group reduced the number of points it awards under its loyalty card scheme.
Asda also has a long-running price match promotion.