Walt Disney boss Robert Iger to step down in 2015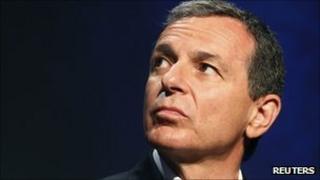 Walt Disney chief executive Robert Iger will step down from the position in 2015, but will stay on as executive chairman until the summer of the following year, the company has said.
Mr Iger, 60, will also take on the role of chairman once John Pepper retires from Disney next year.
He has been in charge of the day-to-day running of the company for six years.
Under his stewardship, Disney bought Pixar studios for $7.4bn (£4.8bn) and Marvel comics for $4.2bn.
Pixar was the company bought by Steve Jobs, the Apple co-founder who died earlier this week, in the 1980s.
'Unique skills'
"Iger will hold the positions of chairman and chief executive officer through 31 March, 2015, at which time a new chief executive would be named," the company said in a statement.
Mr Iger's current contract had been due to expire in 2013.
"The board is delighted that the company has been able to secure the longer-term continuation of Bob's unique blend of experience and leadership skills," Mr Pepper said.
"His ability to bring together the many parts of Disney's business against a clear and proven strategy, while instilling a culture of innovation, collaboration and discipline, will continue to serve the long-term interests of shareholders."
Disney said Mr Iger will earn a basic salary of $2.5m a year.
The company gave no details of who might succeed Mr Iger as chief executive.