Microsoft Skype deal gets green light in Europe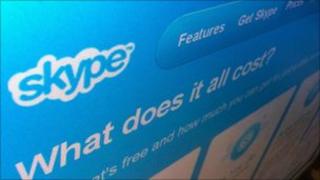 Microsoft's takeover of internet phone service Skype has been approved by European authorities.
The $8.5bn (£5.4bn) deal would not "significantly impede effective competition across the single European market", the European Commission said.
There were "numerous players, including Google" in "this growing market", it added.
Luxembourg-based Skype has more than 650 million global users and is Microsoft's largest single acquisition.
The deal was first announced in May this year.
Internet auction house eBay bought Skype, which was founded in 2003, for $2.6bn in 2006, before selling 70% of it in 2009 for $2bn.
This majority stake was bought by a group of investors led by private equity firms Silver Lake and Andreessen Horowit.
Under the terms of the deal, Skype will now become a new division within Microsoft. Skype chief executive Tony Bates will continue to lead the business, reporting directly to Microsoft boss Steve Ballmer.
Calls to other Skype users are free, while the company charges for those made to both traditional landline phones and mobiles.