Toyota to export made-in-India vehicles from 2012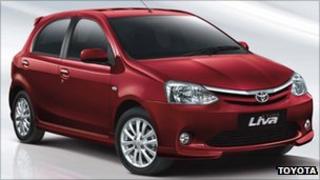 Toyota's Indian joint venture says it plans to export cars to South Africa by March 2012.
The announcement marks the first time Toyota Kirloskar will ship Indian-made cars overseas. It is increasing production to cope with extra demand.
Two petrol-engine Etios models are involved, a compact hatchback and a larger sedan.
Both cars are being redesigned for South Africa's climate, road conditions and local tastes.
Managing director Hiroshi Nakagawa said the news was a "defining moment" for the partnership.
Toyota Kirloska makes 160,000 vehicles a year. It expects that to rise to 310,000 in 2013.
The Bangalore-based business is 89% owned by Japan's Toyota Motor and 11% by India's Kirloskar Group.
The firm's most recent figures reported a 105% rise in sales in September compared with the same month the previous year. A total of 12,807 vehicles were sold over the period.
Shipments
India is becoming increasingly important to Japanese carmakers.
Nissan's Indian division will export its Sunny sedan to West Asia and Africa from early 2012.
Honda's Indian joint venture also plans to ship its compact Brio model to Nepal and Bhutan next year. It already exports engine parts to Thailand, Malaysia and India.
However, analysts say the moves must be seen in context.
"The exports are still limited in numbers," said Darius Lam, an independent auto analyst based in Mumbai.
"At the moment, this is mainly symbolic. It should be seen as a first tentative step abroad, so that customers can be certain of their quality."