American workers take to the streets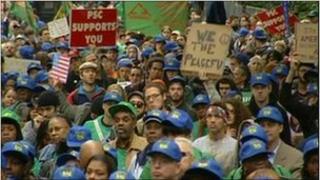 Is America taking a leaf from Europe's protest manual?
It is rare to see demonstrations on the streets of American cities, but this week New York has been dominated by angry crowds.
There has been the Occupy Wall Street rally, but also a smaller, more targeted group protesting about job cuts in local schools.
Over 700 school workers are being laid off from New York City's public schools in the biggest mass lay-offs of Mayor Michael Bloomberg's administration.
The employees and union organisers gather in lower Manhattan outside City Hall, all the better to shout their complaints at the Mayor's office.
The crowd of several hundred is mainly wearing bright green t-shirts with union logos and blue caps.
Signs read: "It's about Freedom" and "Stop laying off public sector workers now".
At one point, protesters from the Occupy Wall Street sit-in arrive, with whistles and banners, to support the union workers.
There are dozens of New York City police overseeing the crowd.
Angry
The axe has been hanging over these teachers' assistants for at least two years, but now more than 700 will receive their "pink slip" and be left unemployed by the weekend.
New York City has been relatively well-off during the recession, thanks to its mass of high finance and lucrative taxes. But this Friday, school aides like Cliftonia Johnson will be out of work.
After 20 years with the Board of Education, Cliftonia is angry at losing her position: "We are tired of being disrespected and kicked to the curb, like we don't exist, like we don't matter. We DO matter!"
She argues that cutting her job will only hurt the disadvantaged Hispanic and African-American pupils she works with.
Lillian Roberts heads New York City's largest labour union, which represents Cliftonia and the other school workers.
The union leader says that these are some of the lowest paid employees in the school division: "They're borderline employees making very little money."
But now they will be added to the 14 million Americans currently out of work, even though "they don't want welfare and they don't want any of the humiliation of not having a job".
Elena Henneman works at a school with 5,000 students.
She says laying off assistants like her, who help with everything from administration to hallway security, will be detrimental to children - and detrimental to her.
"As of October 7th I don't have a salary and I won't have medical benefits," she says. "So everyone fails, most importantly the children."
Duress
America's public sector workers have been hit hard this year.
A third of all lay-offs announced in 2011 have been in the public sector, according to job tracker Challenger, Gray and Christmas.
In all, 150,000 jobs have been cut from government payrolls this year - three times more than in any other sector.
John Challenger says public sector cuts are adding up: "We saw 50,000 cuts announced in the month of September, over 17,000 the month before, and there seems to be more to come."
He adds that it is America's "core, most traditional jobs" - from teachers to soldiers and mail carriers - that are now under the most duress.
Government lay-offs are also the biggest drag on the US economy, according to the head of America's central bank.
Ben Bernanke, the chairman of the Federal Reserve, warned US lawmakers to avoid making cuts that "could impede the ongoing economic recovery".
Scary prospect
It is a far cry from the start of this year, when it looked like the United States might suffer sluggish growth, but then see a pick-up.
That view is vanishing fast.
Jan Hatzius, chief economist at Wall Street bank Goldman Sachs, has said he estimates the chances of a second recession at around 40%.
He also anticipates that America's unemployment rate will rise to the mid-9% range next year - the year voter go to the polls in the presidential election.
That is scary prospect for people like Lissette Jijon, a school administrator, who turned out for the protest.
She says her job is not on the line now - but she's wonders who might be next: "We're already working with less than we had in previous years.
"Now we are being forced to get rid of these people, and they are the least paid workers. So we have to support them."
Public sector workers and union leaders though are fighting a rising tide of job cuts, hoping that President Obama's new jobs bill will do something to turn the situation around.
With more layoffs on the way, Americans are only likely to see more angry workers taking to the streets.