Ericsson's stock jumps after Sony mobile phone story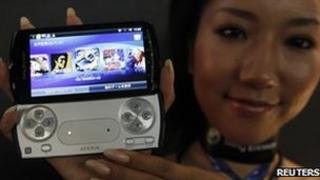 Shares in the Swedish telecoms firm Ericsson have risen on a report that Sony may soon buy it out of their mobile phone handsets joint venture.
The Wall Street Journal says Sony wants to integrate the division with its tablet computer and hand-held games machine businesses.
The report said the Japanese firm may pay its partner up to 1.25bn euros ($1.7bn, £1.1bn) for its 50% stake.
Ericsson's shares climbed close to 8% in US trading after the news broke.
'Struggling'
Despite Sony's reputation as a technology innovator, the joint venture has struggled to maintain market share.
Sony Ericsson accounted for 1.7% of all global mobile phone sales between April and June, according to a recent report by technology research firm Gartner.
That compared to a 3% share the previous year.
"The business has been struggling," said Mark McKechnie, a technology analyst at ThinkEquity.
"Sony's decision to use its brand with Ericsson's technology was a good idea, but it didn't work out. Now it wants more control to better compete against Apple and other [Google] Android devices."