Will NFC make the mobile wallet work?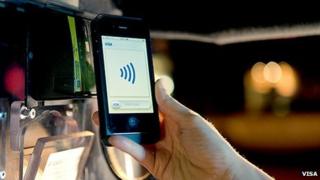 As Tim Cook unveiled the new iPhone 4S, for many there was a sense of slight disappointment.
For some financial institutions and telecoms companies, the highly-anticipated launch had failed to bring the announcement they'd been hoping for - that the new phone would have NFC (near field communication) technology integrated into it.
NFC has many uses as a technology. But the one that has pushed it into the spotlight lately is as an enabler of the mobile wallet.
The developing world has been using mobile phones to pay for goods and services in shops, taxis, and just about anywhere else for a few years now. These are usually based on SMS technology.
In the developed world - although there are other options, such as the service PayPal offers - the announcement earlier this year of the launch of the Google Wallet in the US kick-started the hype around NFC.
In Japan, Sony's FeliCa contactless payment system - originally used on Hong Kong's mass transit system in the form of Octopus cards - has been a feature of NTT Docomo mobile phones since 2004. The rest of the world may be catching up.
Radio silence
It works like this. Two devices with NFC chips are brought into close proximity to each other, at least 4cm, and are then able to communicate with each other.
The NFC chip - which is a form of radio frequency identification (RFID) - is an enabler, letting the data - your payment - move between devices. There also has to be a secure element to deter hackers, and an application that provides a user interface on the phone.
Although some handsets are equipped with NFC chips, phones can be retro-fitted with sim cards, microSD cards, or cases that incorporate chips. So although the iPhone has no inherent NFC capability, thanks to devices like the one created by DeviceFidelity and used by Visa among others, it can still run a mobile wallet.
The wallet could be run by your bank or Mastercard or Visa, the likes of Google or Isis in the US, or one of the telecoms companies - Telefonica O2 and Orange are just two with offerings in Europe.
Business basics
What are the advantages for business?
Telecoms analyst David Snow of Juniper Research says it is an attractive proposition for retailers.
"I think for the retailer on the street particularly if it means he doesn't have to handle so much cash, if you're thinking of a convenience store you can process people faster, you can bust the queue."
This does mean at some point there has to be an investment in new NFC-capable point of sale devices.
Carl Tsukahara of mobile banking solutions supplier Clairmail says NFC's flexibility could motivate shoppers through the door.
"The value goes far beyond the payment. There has to be a motivation for the consumer to use this thing as well as the merchant to put in the equipment at the point of sale.
"And that value is driven by the value surrounding the payment. Electronic receipting to the consumer might be one example. The ability to get offers because you have location on a phone - imagine walking into a store, and immediately because of the device you get offers pushed to your phone you can redeem at the point of sale."
Michelle Janes of Visa agrees. The credit card giant has its own mobile wallet technology, which they have also licensed to Google and Isis. They already use a real-time offer service tied to their cards.
"We think the opportunity for mobile is much more beyond just making a payment at point of sale," she says.
"The benefits of a dynamic device like the mobile is the ability to add additional services.
"So Visa has realtime alert services, and offers capabilities and preference management that we really see complementing payment."
Jason Rees, director of mobile payments at Everything Everywhere, says they are starting to see more and more retailers embracing the technology.
"For example McDonalds have rolled out across all of their 1200 [UK] outlets. We're starting to see more and more retailers on board.
"Once you've got the retailers interested, the consumers interested you create the environment for the market."
Security alert
Not everyone is quite so sanguine about the adoption of the mobile wallet.
Phil Lieberman, head of IT security specialists Lieberman Software, believes the technology poses a significant security risk to consumers.
"I think it's insane. How's that for vague?" he says.
"I really do like technology, for the most part I do trust it, and security is the business that my company is in.
"It is possible to create secure solutions - but there's an old saying, don't fix what isn't broken and technology should make life better and more secure, I'm not sure in my thinking how this actually creates a more secure environment."
Mr Lieberman believes that because the chips remain programmable, this leaves the way clear for hackers. He does stress that the technology needs to become more widely adopted before it becomes a worthwhile target.
"When credit cards are manufactured, they're made in a secure facility and when the card issuer is done setting up the card they burn a fuse in the card that makes it tamper proof, meaning that the card can't be updated any longer.
"In this technology they're talking about programming this over the air."
"I think the one thing that concerns me is that the programming path to the wallet is open."
Dr Siva Narendra is the president of Tyfone, a company that has created technology that lets this financial institutions programme NFC chips wirelessly. He disagrees completely.
"If that security is not sufficient there is no security today that is sufficient.
"There are two ways to manage security. You keep the algorithm of how you communicate a secret or you keep the algorithm open and keep the digital keys that unlock that secret.
"The entire planet's security to date relies on keeping the digital keys. That's how smart card chips work today. Those digital keys can continue to be a secret, and you can manage that lifecycle remotely."
Pin money
For Andy Kemshall, chief technology officer at SecurEnvoy, the concern is authentication.
For small payments with some contactless payment systems there is no requirement to enter a pin number.
"If someone steals your phone clearly they could start to use it for micropayments or connectivity. We need to maintain that second factor."
But unlike Mr Lieberman, he feels that the mobile wallet isn't such a bad idea.
"If however the system's set up for the micropayments where that second factor is still maintained, we're asking should the phone be the logical equivalent of a credit card.
"The answer is yes it should, it's an ideal device."
Visa Europe's head of innovation Sandra Alzetta says all of the security checks have been made.
"We've been through a huge amount of security and risk review, through all of the external labs, where basically people's job is to hack into this. All of the statistical security, all of the software security and so on.
"Is something ever 100% secure? I don't believe there's any such thing. Is it fit for purpose? Absolutely, and it has to be."
And as mobile money expert Monitise's Richard Johnson says - ultimately NFC is not the only option.
"Mobile wallets don't have to have NFC. You've got what Paypal are showcasing at the moment which is very pointedly not dependent on NFC. You've got the wallet that we're involved in in the UK, the Simply Tap network which is ready for NFC but in its initial phases isn't at all dependent on NFC.
"NFC is just a technology. It's about the ability of people to build compelling propositions around it. It's not a Vegas thing, build it and they will come, it's because it's more convenient.
And will the mobile wallet replace the humble credit card? Probably not entirely, says Juniper Research's David Snow.
"They're going to be complementary for a long time. For instance contactless cards are being distributed widely in the States but not many people use them, they still swipe them," he says.
"It will take time. I think up until this point the slowness of the NFC phone roll-out has been the bottle neck. But that appears now to be being unblocked. I think the bottle neck will move into other areas.
"I would be bullish about the market, it's such a winning technology."