Stock markets rise on expectation of eurozone bank plan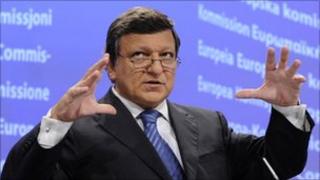 Stock markets have been boosted by expectations that European leaders are about to act to ease the debt crisis.
The main markets in London, Frankfurt and Paris ended 3-4% higher, while Hong Kong rose 5.7% and the Dow Jones 1.7%.
European Commission President Jose Manuel Barroso said in a television interview that there were plans for co-ordinated action to recapitalise banks.
Meanwhile, the European Central Bank has announced 40bn euros (£35bn, $54bn) of emergency loans for eurozone banks.
The announcement came as the ECB decided to keep interest rates on hold again at 1.5%. The central bank's move will help ensure European lenders do not run out of cash.
But it does nothing to address the more fundamental concern of markets that many European banks do not have enough capital to absorb the losses that would result from a renewed recession as well as from a widely expected debt default by Greece.
EU-wide bank plan
There have been a flurry of reports and comments in recent days that European authorities have negotiated plans to bolster the banks, and to further boost its key bailout fund - the European Financial Stability Facility (EFSF).
On Thursday, Mr Barroso fuelled expectations further, telling Euronews TV that the EU executive was proposing "co-ordinated action" to the 27 European Union nations to tackle the banks.
The intention was to "recapitalise banks and get rid of toxic assets they may have".
Recapitalisation would involve the banks issuing new shares, which may result in them being partly nationalised if the only investor willing to buy the new shares turns out to be their own government.
During the financial crisis, governments also helped the banks by buying up or guaranteeing the value of bad loans and other such loss-making "toxic" assets that they held.
Later on Thursday, German Chancellor Angela Merkel - whose involvement is key to any deal - is due to hold talks in Berlin with Mr Trichet as well as the heads of the International Monetary Fund, the World Bank, the OECD and G20.
On Wednesday, Mrs Merkel said she was in favour of a co-ordinated recapitalisation of European banks if that was deemed necessary.
Expectations that there will be action to bolster banks and boost European bailout funds began on Monday, when Olli Rehn, European commissioner for economic affairs, said there was "an increasingly shared view that we need a concerted, co-ordinated approach".
In an interview with the Financial Times, he said there was "a sense of urgency among ministers and we need to move on".
Not pooling resources
Any co-ordination may be limited to European governments agreeing common standards for deciding how much money their banks need.
This may involve a new round of "stress tests" by regulators to see how vulnerable the banks are.
Franco-Belgian bank Dexia, which is now on the verge of being broken up and nationalised, has made a mockery of the last such test, which it comfortably passed in July.
However, a senior European official cited by news agency Reuters made clear that European "co-ordination" would not involve any further pooling of financial resources to deal with the banks.
Instead, it may be left to each individual government to deal with its own banks - an outcome that some investors have expressed concern over, due to question marks over the financial health of some of the governments themselves.
Italy, whose borrowing costs rose heavily in markets over the summer, had its creditworthiness slashed by rating agency Moody's on Tuesday - a move that is likely to put further financial pressure both on the Italian government and on its banks.
Meanwhile, the rescue of Dexia by the French and Belgian governments has already seen public disagreement between the two over whose taxpayers will cover the cost, while the bank's Luxembourg subsidiary is shortly to be hived off in a separate rescue arranged by the Luxembourg authorities.
Ms Merkel and Jean-Claude Trichet, the outgoing ECB president, have both said that the EFSF should lend the money needed by governments to pay for these recapitalisations.