Can Apple stay ahead without Jobs at its core?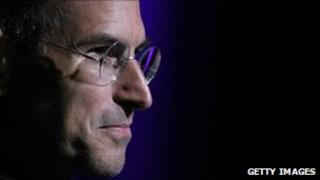 Steve Jobs, co-founder and figurehead of Apple, passed away just hours after the technology giant unveiled its latest product - the iPhone 4S.
The launch was the first by Apple following Mr Jobs' resignation as chief executive in August, and hence it offered a glimpse of what to expect from new boss Tim Cook.
Expectations ahead of the launch had been high, with many Apple fans hoping for an iPhone 5 that would perform yet another technological leap by the nimble giant.
Instead, they were served a phone that was virtually indistinguishable from the previous model, which is already 15-months-old and thus deemed ageing by many in the fast-moving world of smartphone technology.
"The danger for these guys is that they've done a product refresh in a market where the product cycle is shorter and shorter," observed John Jackson, CCS Insight analyst.
"The danger is that the prospective iPhone customer is going to be distracted by that shiny new device from Samsung or whoever it is."
'He's irreplaceable'
Compounding the fans' disappointment was Mr Cook's reluctance to step into Mr Jobs' admittedly big shoes, leaving his marketing boss Phil Schiller to do the talking.
"In terms of style, it was underwhelming," observed Gregory Roekens, chief technology officer at marketing firm Wunderman.
And as Apple's share price tumbled 5% in the immediate aftermath of the announcement, it became clear that Mr Jobs' absence was making itself felt, not only within the company he had led for so many years, but in the investor community as well.
"He's irreplaceable," said Tim Charlton, of Charlton Media Group. "There's nobody with his vision."
Lost without Jobs?
What investors, and many an Apple fan, fear is not that the company will plunge from its position as one of the largest companies in the US.
Rather, they fear that without their guru leading from the front, the pace at which Apple moves forward will slow at a time when its rivals are speeding up, snapping at its heels.
"In the short term, the impact is not likely to be that much, as the company already has in place plans for technology and product development," observed Nitin Bhat, telecom analyst at Frost & Sullivan.
"But in the the medium to long term, [Mr] Jobs' absence may hurt Apple."
'Look and feel'
This trust in Mr Jobs and his instincts may seem irrational, not least given the way he - in the words of Mr Charlton - "put a lot of processes in place to ensure new executives take the company forward" before he stepped down in August.
Indeed, in his resignation letter, Mr Jobs said he believed "Apple's brightest and most innovative days are ahead of it".
Mr Bhat is amongst those who were not convinced.
"Product development is not just about getting the technological bit right - it's also also about the art of getting the look and feel and the timing of its launch right," he said.
"That cannot be taught," he said. "Very few people have it and that is a trait of Steve Jobs that Apple will miss the most."
Such talk seems to suggest Mr Jobs has left behind a rudderless ship without a captain, which is patently not the case.
But it is clear that the new brooms at Apple will have to come up with something radically new quite soon to convince both customers and investors that its edge has not been lost and that Mr Jobs' legacy will live on.