Belgium approves 'bad bank' for Dexia assets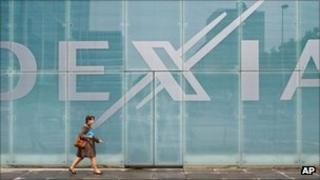 The Belgian government has approved the creation of a "bad bank" for risky assets held by the troubled Franco-Belgian bank Dexia.
Shares have fallen sharply in the past two days amid fears about its large exposure to Greek government debt.
Belgian Prime Minister Yves Leterme said his cabinet had agreed to isolate at-risk assets and to guarantee debts.
There are fears that Greece may end up defaulting on more than 50% of its debt, mostly held by European banks.
Shares fell by as much as 37% at the start of European trading on Tuesday - adding to a 10% Monday drop prompted by an alert by ratings agency Moody's - but rallied back to a mere 22% down at the end of the day.
Reorganisation
The commitment to guarantee debts raised questions over the heavily indebted Belgian government's own solvency.
Belgium's 10-year cost of borrowing jumped from 3.7% to 3.8% in bond markets on Tuesday.
Separately, the French and Belgian central banks also stated that they "fully support" Dexia, indicating that they will provide whatever borrowing is needed by the bank to ensure it does not run out of cash.
The bank is to be restructured. As well as the creation of a "bad bank" supervised by the French and Belgian governments, a unit of the bank responsible for lending to French local authorities, Credit Local, will be sold off.
A joint statement from the countries' finance ministers said: "In the framework of Dexia's restructuring, the governments of France and Belgium, in co-ordination with our central banks, will take all necessary steps to ensure the protection of depositors and creditors."
The two ministers, who were meeting at a wider EU finance ministers' meeting in Luxembourg, have been discussing ways to support the bank.
Many investors anticipate that the bank will ultimately have to be recapitalised by the two governments - in other words, nationalised.
The crisis at Dexia comes just weeks after the bank passed stress tests by regulators of all the major European banks, further undermining the credibility of the entire exercise.
Exposure
Market concerns over Greece's ability to repay its debts were further heightened on Monday, as eurozone finance ministers again delayed a decision on giving Greece its next instalment of bailout cash.
It came after Greece said it would not meet this year's deficit cutting target.
Eurozone banks have been hit by cash outflows since the summer amid fears that Greece, and possibly other governments, may ultimately default on their debts, and even exit the eurozone, leaving their lenders sitting on big losses.
Dexia's exposure to Greek government debt totals 3.4bn euros ($4.5bn; £2.9bn). Its total exposure to Greece - including to private-sector Greek borrowers - is 4.8bn euros.
It has already written off 21% of its Greek debts, but market prices now suggest the eventual loss to lenders could be in excess of 50% of the amount owed by Greece.
The bank is partly-owned by the French and Belgian governments, after it received a 6bn-euro joint bailout at the height of the financial crisis in 2008.