Indian summer 'prompts spree at cash machines'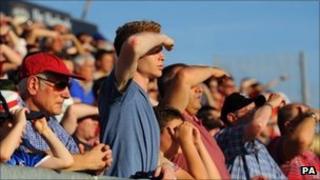 More money was withdrawn from UK cash machines last Friday than on any other day so far this year, thanks to the hot weather, the Link network has said.
Some £577m was taken out from Link's machines that day as daytrippers prepared for the warm weekend, it said.
This was the highest amount withdrawn since Christmas Eve of last year, said the company.
Temperatures in England reached record levels for October, with the mercury hitting 29.9C (85.8F).
Cash spending
There are 64,000 cash machines connected to the Link network in the UK - that is nearly all that exist across the country. The latest figures do not include withdrawals when a customer used their own bank's ATM, so represents about 65% of total withdrawals.
Under this measure, the £577m withdrawn on 30 September was 14% higher than the amount taken out of cash machines on the same day a year earlier.
The cash spree - and the hot weather - continued through the weekend. The £252m withdrawn on Sunday was 11% more than a year earlier.
"The good weather really seems to have encouraged people to withdraw cash in preparation for increased spending over an unusually sunny weekend - confirmation that the right combination of feel good factors can boost short term spending and that cash is a very popular way of paying for these kinds of goods and services," said John Howells, chief executive of Link.
Pay day
Other factors behind the peak may include consumers choosing cash over cards when buying things outdoors, and that more people were in the UK enjoying the sunshine than would have been the case during the summer holiday season when many families go abroad.
A week ago, some retail analysts suggested that the unseasonal weather could hit early sales of autumn fashions.
Friday lunchtimes are commonly the most popular time of the week for cash machine use, with consumers preparing for weekend spending. Last Friday came at the end of the month, at a time when many workers are paid.
Previous busy times this year included the Thursday before the Royal wedding and long bank holiday weekend.