London Gateway 'super-port' to open before end of 2013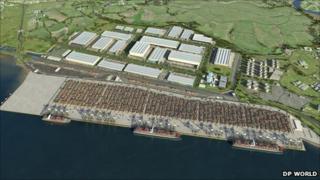 The owners of the London Gateway port say the project is due to open in the last three months of 2013.
DP World says the site will initially be able to handle 1.6 million standard shipping containers a year. Over time, the Dubai-headquartered group plans to raise capacity to 3.5m containers.
Construction work began near Thurrock, Essex, in January 2010 on the site of a former Shell oil refinery.
When complete, it will be the largest deep-sea port in the UK.
DP World says the Thames Estuary development has already created 600 jobs and it plans to increase that number by a further 1,000 over the coming months. Seven hundred of the new posts will be in construction, while the other 300 are described as port jobs.
The firm estimates that eventually, the port and a neighbouring logistics centre will help create 32,000 jobs, adding £3.2bn to the UK economy each year.
'Environmentally friendly'
The company says the project is also good for the environment. It says that by allowing the world's largest cargo ships to unload their goods next to a major distribution centre, 65 million road freight miles can be saved every year.
DP World's chief executive, Mohammed Sharaf, said: "London Gateway is a giant leap forward for the UK's supply chains and will benefit our customers tremendously through more efficient transportation of goods."
Business Secretary Vince Cable also welcomed the news, saying: "It will help Britain maintain its competitiveness, drive productivity, and crucially strengthen our links with Asia and beyond."