American Airlines shares plummet on bankruptcy fears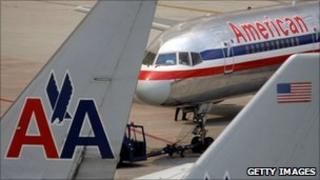 Shares in American Airlines' parent company have ended the day down 33% on fears the airline may have to seek bankruptcy protection.
At one point shares in AMR fell by as much as 41% in New York on Monday, sparking automatic halts in trading.
American Airlines is the third largest carrier in the US but has been struggling with high debt loads and sluggish demand.
A spokesman said a Chapter 11 bankruptcy "is certainly not our goal".
More losses
American Airlines is expected to post its fourth straight year of losses in 2011, and analysts expect that to continue into 2012.
It's one of the few major carriers not to have restructured in a Chapter 11 bankruptcy, leaving it with higher costs and debts than competitors.
Several rumours about a possible restructuring appear to have sparked Monday's sell-off, including reports that a large number of pilots were retiring from the company early in case a filing affected their retirement plans.
Fears of a second recession in the United States also contributed towards the share drop, which affected other airline stocks as well.
"The market was ugly," Ray Neidl, an analyst with Maxim Group in New York told the BBC.
"Consumer variables such as airlines were down big time across the board as fears of recession grew bigger."