Dexia shares slump 10% on Greece concerns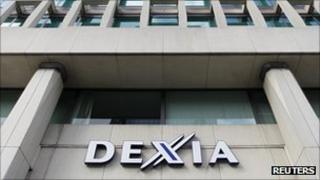 Dexia has called an emergency board meeting amid fears over its exposure to Greek debt.
Meanwhile, shares in the Franco-Belgian bank fell 10% on Monday after rating agency Moody's said it was reviewing Dexia for a possible downgrade.
The finance ministers of Belgium and France are meeting eurozone colleagues in Luxembourg, and are expected to discuss ways to support the bank.
Financial markets fell on news Greece would miss deficit reduction targets.
Greece announced on Sunday that the 2011 deficit was projected to be 8.5% of gross domestic product, down from 10.5% in 2010, but short of the 7.6% target set by the EU and IMF.
Write-off
The news affected financial markets across Asia and Europe, with bank shares among the hardest hit.
Eurozone banks have been hit by cash outflows since the summer amid fears that Greece, and possibly other governments, may ultimately default on their debts, and even leave the eurozone, leaving their lenders sitting on big losses.
Dexia shares initially fell 14% on news of the possible rating downgrade, and despite a rally back in later trading, they were still the worst hit in the financial sector.
Moody's cited Dexia's potential losses on a Greek debt default, as well as the bank's recent difficulties in borrowing short-term cash from markets, as reasons for the rating review.
Dexia's exposure to Greek government debt totals 3.4bn euros ($4.5bn; £2.9bn). Its total exposure to Greece - including to private-sector Greek borrowers - is 4.8bn euros.
It has already written off 21% of its Greek debts, but market prices now suggest the eventually loss to lenders could be in excess of 50% of the amount owed by Greece.
Paris-based business newspaper Les Echos reported on Friday that the French and Belgian governments would discuss measures to shore up Dexia's balance sheet.
The bank is already partly-owned by the two governments, after it received a 6bn euros joint bailout at the height of the financial crisis in 2008.
There were reports last week that the bank could be split up, and speculation of a possible nationalisation of the bank.
Another option under consideration is the sale of Credit Local, a unit of the bank responsible for lending to French local governments.
Belgian Finance Minister Didier Reynders told Belgian radio on Friday that Dexia's shareholders should be behind the bank and be ready intervene if there was a problem.