BAE sites hit by job cuts to become enterprise zones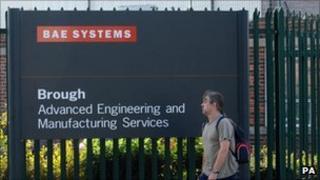 Two new enterprise zones are being created to help workers who are losing their jobs at BAE Systems find new employment, George Osborne has said.
One zone will cover BAE's Warton and Samlesbury sites in Lancashire, while the other will surround the firm's Brough facility in East Yorkshire, the chancellor told the BBC.
Firms setting up in the two new zones will not have to pay business rates.
BAE is cutting 900 jobs at Brough, 822 at Warton, and 565 at Samlesbury.
"We are doing everything we can to create new jobs on those sites," Mr Osborne told the BBC's Politics Show North West.
"We are going to get new companies into those sites, we are going to give jobs to people who have lost their jobs at BAE."
Announcing the redundancies on 27 September, defence group BAE said it needed to "ensure its long-term future".
The decision followed a fall in orders.
David Davis, the Conservative MP for Haltemprice and Howden, whose constituency includes Brough, said: "Enterprise zones are a great idea. We know they work, it's been demonstrated before right back to Margaret Thatcher's day.
"It is the first step to helping those 900 workers have a proper future."
BAE employs 40,000 people in the UK, and 100,000 worldwide.
The government has already set up a number of enterprise zones across England, which they hope will attract new business investment.
In addition to offering firms payment holidays on business rates, they have fewer planning restrictions.
Other enterprise zone locations include sites in Leeds, Sheffield, Birmingham, Bristol, Liverpool, London, Manchester, Derby, Nottingham, the Black Country, the Tees Valley, the West of England and the North East.