Cameron warns eurozone break-up would harm the UK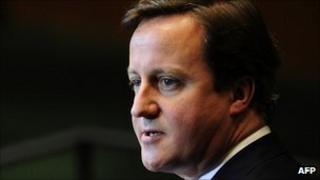 Prime Minister David Cameron has warned that it would be "very bad" for the UK if the eurozone were to break up.
Speaking to the BBC's Andrew Marr Show, he said the debt crisis in the eurozone was "a threat not just to itself, but also a threat to the UK economy, and a threat to the world economy".
He reiterated that eurozone leaders had to take quick and decisive action.
Mr Cameron said that, as 40% of UK exports went to the eurozone, it could not shield itself from the problem.
The prime minister said the UK government had "a very clear view" of what needed to be done, and that it was pushing this with its partners in Europe and the International Monetary Fund (IMF).
He said eurozone leaders had to strengthen the region's financial mechanisms, ensure the greater involvement of the IMF, and deal decisively with the high levels of sovereign debt.
Mr Cameron added: "Action needs to be taken in the next coming weeks to strengthen Europe's banks, to build the defences that the eurozone has, to deal with the problems of debts decisively."
He said these emergency measures were needed before any long-term plans of more economic coordination across the eurozone were introduced, such as a single tax system.
Greek fears
European stock markets again fell heavily on Friday due to concerns about the debt crisis in the eurozone.
Crisis jargon buster
Use the dropdown for easy-to-understand explanations of key financial terms:
AAA-rating
The best credit rating that can be given to a borrower's debts, indicating that the risk of borrowing defaulting is minuscule.
It meant that for the three months from July to September, the main UK share index, the FTSE 100, recorded its biggest quarterly fall since 2002.
The concerns centre on Greece, the most indebted eurozone nation.
Greece needs its next 8bn euros (£6.9bn; $10.9bn) instalment of European Union (EU) and International Monetary Fund (IMF) bailout loans by the middle of this month to be able to continue paying its civil servants and teachers.
This tranche was delayed in September after EU, IMF and European Central Bank officials said the Greek government was not carrying out sufficient austerity measures.
The wider fear is that Greece will ultimately default on its debt payments, and of the knock-on effect this would have on banks across Europe which own Greek government bonds.
Some commentators also warn that Greece may ultimately have to leave the eurozone, plunging the region's economic and political systems into chaos.
Eurozone leaders and the IMF are now continuing to work on a solution to the debt crisis, with French President Nicolas Sarkozy and German Chancellor Angela Merkel due to speak again this week.